France beats Russia to win European Women's Basketball Championship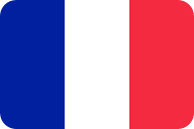 France overcame a fourth-quarter run by basketball powerhouse Russia to win the European Women's Basketball Championship, 57-53, in Riga, Latvia.
Center Sandrine Gruda had 12 points and seven rebounds for France. Emmeline Ndongue added 11 points.
French basketball legend Cathy Melain was scheduled to retire from competition this year, but put off leaving the game to compete in this year's EuroBasket. She finished with two points and six rebounds.
France returned to the final in only their second appearance in the tournament since they won the gold medal in 2001 when they beat Russia, 73-68.
They qualified for the final after beating Belarus, 64-56, in Friday's semifinals.
In the fourth quarter, Russia did not make it easy for France to maintain the lead they held for the previous three periods. France led at the half, 30-19.
In the fourth quarter, with less than two minutes to go, Russia came within four points but could not overcome the deficit.
Maria Stepanova led Russia with 13 points, six rebounds. Olga Arteshina had 12 points and Becky Hammon added nine.
Hammon, who was missing two games with her WNBA team, the San Antonio Silver Stars, to play for Russia, led all scorers in her squad's semifinal match. She scored a game-high 28 points as they beat Spain, 77-61.
In the Bronze Medal Game, Belarus fell to Spain.
Anna Montañana led the Spaniards with 16 points and Amaya Valdemora had 11 points, four assists and three rebounds.
Spain went into halftime leading, 36-20, but Belarus came back in the third quarter with a 9-0 run. Nataliya Trafimava cut Spain's lead to five with a three-pointer at 3:45, but that was as close as Belarus could get.
"Both teams knew each other very well," said Spanish coach Evaristo Pérez. "We knew after the first half that they would try to come back."
Spain beat Belarus twice in EuroBasket 2007.
Fighting for a spot in the World Championship, Greece triumphed over Italy for fifth place. They battled back from an 11-point deficit for the win.
Pokey Chatman's Slovakian team finished the tournament in eighth place with a 67-59 loss to Latvia.
EuroBasket is held bi-annually between European countries. It also includes Israel. It is a qualifying tournament for the FIBA World Championship and the Olympics.