Moonwalking on the hardwood: A basketball tribute to Michael Jackson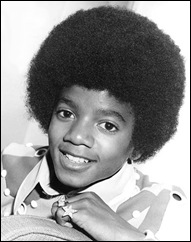 Hundreds of millions of people around the world have personal memories of Michael Jackson. That was a part of his charisma and aura—the ability to touch people  via music even if they never saw him in concert or met him in person. As tributes filled up the airwaves and were published on the Internet, I started thinking about how his influence touched the world of basketball. First though, let me digress with my own memoirs of the King of Pop.
I come from a family that has had Jackson fans from the very first album of the Jackson Five. My aunts owned (and still have) the original ABC album, the Jackson Five Christmas Album and many more. My younger sister was and still is a die-hard Michael Jackson fan. Yesterday evening, after she pulled herself together from a drive home where she listened to a CD of Thriller that she keeps in her car, she started planning her MJ tribute outfit to wear to work the next day.
When we were pre-teens in the 1980s, her room was completely plastered with MJ posters. She owned every magazine and fan book about him. When we found out that the neighborhood supermarket, the Alaco in Silver Spring Shores, Florida was giving away two tickets to the Jacksons' Victory Tour concert in Jacksonville, we knew we had to find a way to win. I read the instructions beside the box for dropping off entry forms and discovered that one could also use a 3×5 card to enter. A light bulb went off in my young head.
We took as many forms as we could without arousing suspicion then headed to the nearby drugstore and bought a few packs of index cards. We spent hours writing our information on those cards. Several weeks later, our wiles paid off and we won those coveted tickets.
One of our older young adult brothers drove our country, nappy-headed, rusty-butts from Ocala (aka Slow-cala) to Jacksonville's Gator Bowl to see the Jacksons. And the concert, it blew us away. My sister screamed the entire time, grabbing my arm, jumping up and down with tears streaming down her face. I alternated between dancing and standing stock still, amazed that I was within the same space as the Jacksons and the King of Pop. I was only 13 or 14 but I knew then that it would always be one of the best concerts of my life.
The NBA draft?
One of the sport's biggest events of the year took a back seat to news reports of Jackson's passing and the death of actress Farrah Fawcett earlier in the day. As the NBA draft began and a WNBA game got underway, players with Twitter accounts posted their heartfelt thoughts on Jackson. Many women's basketball players were clearly shaken by his passing.
Candace Parker of the Los Angeles Sparks addressed his legacy in her WNBA Twitterview yesterday evening:
@utcpla24 I could not believe MJ passed. My brothers were HUGE MJ fans. BAD was my favorite song of his, I used to listen to it all the time

@Mickie_1 I love michael Jackson he is the best and will always be. Sad to see him go and he will be greatly missed. I am a big mj fan!
Chantelle Anderson wrote several entries when she heard that Jackson was rushed to the hospital and was not doing well:
I can feel the tears coming. Praying he gets better. Wow. Crazy…

This is so terrible. I cannot believe Michael Jackson is dead.

Listening to his History album and crying… =(
Shyra Ely of the Chicago Sky, a big Jackson fan wrote:
If any one knows me, they know that I ADORE Michael Jackson. I am so completely heartbroken, I know that he is [in the] best possible place he could be and I take comfort in knowing that. He is the BEST EVER. I am thanking God for blessing the world with Michael Jackson.
Rashanda McCants of the Minnesota Lynx sent a tweet to her brother NBA player Rashad:
just beat it!!! OMG i freakin love this song and video @Rashadsoze7 do you remember them day growing up man brings back memories man!! Sad
Chamique Holdsclaw of the Atlanta Dream put Jackson's death in perspective for her generation:
My heart is broken now! I know how my mom felt when she found out Marvin Gaye died. I pray for M. Jackson's kids and family.
Ashley Battle of the New York Liberty sent a Twitter from her phone:
Im fortunate 2 have seen michael Jackson live I used to have the red zipper jacket from beat it but no glove or curl I cant believe hes gone
Michael on the court
The 45-year long career of Jackson, who began performing at the age of five, reached a zenith in the 1980s with the release of the album Thriller. That decade also launched the era of Michael Jackson impersonators. And basketball aficionados who went to games around that time probably have, at the very least, vague memories of the common sight of Michael Jackson themed half-time entertainment shows. Along with the impersonators were dance troupes, flag teams and cheerleaders performing routines to hits from Thriller and Off The Wall. His music was omnipresent from the high school level to the NBA.

Former Philadelphia 76er's mascot "Big Shot" imitates and dances to a famous Michael Jackson song during a home game at the Spectrum sometime during the 1980s.
To this day in basketball arenas snippets of "Billie Jean," "Beat It," "Thriller," "Wanna Be Startin' Somethin'," and "Smooth Criminal" are commonly heard tracks and never fail to get fans dancing.

The Marquette Women's Basketball team opens up 2008 Marquette Madness by dancing to Michael Jackson's thriller.
MJ to MJ
The music video for the song "Jam" from Jackson's 1991 Dangerous album features basketball legend Michael Jordan. In the video, Jackson teaches Jordan how to dance and the hoopster teaches Jackson the game. The Chicago Bulls used the song in their 1992 NBA Championship video Untouchabulls.
It is rare that one person can reach so many individuals across so many boundaries on a global scale. Michael Jackson's musical genius did just that. So here's to MJ—may his music continue to entertain fans in basketball gyms and arenas everywhere.