WNBA All-Stars kick off the weekend with community service activities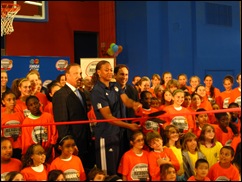 Asjha Jones cuts the ceremonial red ribbon during the court unveiling.
WNBA All-Star weekend festivities kicked off this morning with a court dedication ceremony and a basketball clinic led by players and Sun head coach Mike Thibault.
Former Stanford and WNBA star Jennifer Azzi hosted the community event at the Windham Recreation Center in Willimantic, Conn. Toyota and the Connecticut Sun unveiled a refurbished basketball court featuring the logos of the Sun and the WNBA Cares initiative. The Sun's Asjha Jones cut the ceremonial red ribbon.
Along with Jones, several other WNBA All-Stars including Charde Houston, Katie Douglas, Tamika Catchings and Cappie Pondexter attended the event and ran drills during the clinic.
Jorge Echevarría watched with intense concentration yet his face was beaming as he watched daughter, Geulianie, on the court with Catchings and Houston. The eight-year-old participated because her dad says "she loves to play" basketball. When one of her former teachers called Echevarría to tell him about the event, he jumped at the chance to bring Geulianie to interact with the players, especially Jones, who plays for her favorite team, the Sun.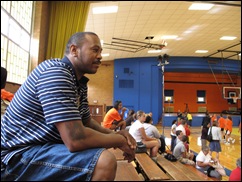 Jorge Echevarría watches his daughter.
Marlene Nieves had three daughters participating in the event. She snapped pictures of them all morning, from the beginning court dedication and throughout the duration of the clinic. She was in the stands with her 13-year-old son Javier, who often plays basketball with his three younger sisters.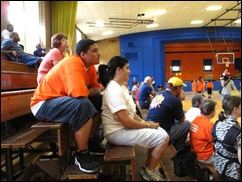 Marlene Nieves watches  her three daughters along with her son Javier.
After the clinic and an autograph session for the kids, the players headed back to the Mohegan Sun Resort for the afternoon's activities. Fans can watch open practices for the East and West All Stars beginning at 3 p.m. Both practices free of charge.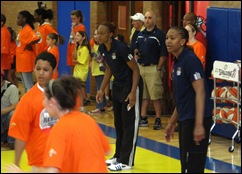 Charde Houston and Tamika Catchings run drills.
Several players are tweeting about their All-Star weekend including Houston (@CharHouston), Cappie Pondexter (@cappa23), Alana Beard (@AlanaBeard20) and Swin Cash (@SwinCash). Beard and Cash will also tweet during Saturday's game. And not to be left out, Indiana Fever head coach and East All-Star coach Lin Dunn (Coach_Dunn) is in on the tweeting action:
I wil be twittering from all star practice TODAY!
Former UConn and WNBA star Rebecca Lobo (@RebeccaLobo), an analyst for ESPN, will also tweet during tomorrow's game.