Texas Christian wins DFW battle against cross-town rival Southern Methodist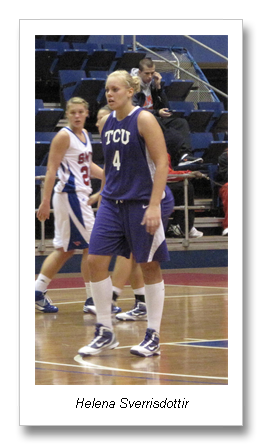 DALLAS – Southern Methodist and Texas Christian have a series rivalry spanning 27 years, over which time the SMU Mustangs have owned a 38-13 edge. But the TCU Horned Frogs added a win to their column Wednesday night at SMU when they beat the Mustangs 84-66 before a crowd of 660 at Moody Coliseum in Dallas.
It was a special victory for TCU, beating SMU for the first time in three seasons. Last year the Mustangs went to Fort Worth and took down the Frogs, 79-75.
"We lost the last two games," TCU freshman Starr Crawford said of the series, "so that added to the fire. We knew what we had to do and took care of it."
TCU did take care of things, but not until the second half. It was a pretty even game for much of the first half. There were six lead changes and two ties. SMU did manage to build a five-point lead but TCU worked its way back and had a six-point lead with a minute left in the period. However, SMU did not let up and narrowed TCU's lead to one with a buzzer-beating three-point shot from freshman guard Alisha Fillmore.
The Mustangs appeared to carry some of the energy created from the thrill of that exciting shot into the second half, but after a few minutes they looked sluggish and fatigued. SMU head coach Rhonda Rompola expressed disappointment with her team for their lack of drive.
"It's frustrating to go in with the momentum," she said of her team's failure to remain energized. "It's mind-boggling as a coach, but we had so many defensive breakdowns in the second half."
She said she felt her team gave the game to TCU.
"When shots don't fall or you turn the ball over, you still gotta have fight," she continued, "you don't give up on defense, and I felt like at times we gave up and didn't have the fight."
TCU sealed the victory with a 13-0 run midway through the half and never looked back.
"That was critical for us," said TCU head coach Jeff Mittie, "to withstand their run and then push away from them."
TCU lost a road game to North Carolina State on Sunday. Mittie felt his team had something to prove to themselves in facing SMU.
"We need to show that we can go on the road and withstand somebody's run," he said. "We didn't handle North Carolina State very well. We didn't show the composure, we didn't execute very well. Today I think we were strong in the second half and executed our advantages really well and got some offense out of our defense."
TCU widened its margin with hustle on both ends of the floor from juniors Helena Sverrisdottir and Emily Carter, as well as hot shooting from freshman Starr Crawford.
SMU had no answer for TCU, and Rompola said her team's sub-par effort reflected recent lackluster practices.
"We practiced like we played today. I felt we were very lethargic out there. What you do in practice you're going to carry over in the game."
Four TCU players scored in double digits. Sverrisdottir and Crawford had double-doubles. The junior from Iceland finished with 18 points, 12 rebounds and five assists. Crawford, from nearby Arlington, had 15 points and 10 rebounds. Carter finished with a game-high 24 and senior TK Lafleur had 13.
Sophomore Christine Elliot led SMU with 18 points. Raquel Christian came off the bench for 13 and junior Haley Day had 10.
Next up for TCU (6-3) is a home game against another in-state rival, No. 10 Texas A&M. The game tips off at 6pm CT and will be televised on the MountainWest Sports Network.
SMU (6-2) is in the midst of final examinations and has a ten-day break before heading to the Bahamas for a tournament. They face Wichita State on December 19 and Indiana State the next day.
Notes: TCU's Crawford leads the Mountain West conference in rebounding. The Frogs beat No. 18 Kansas on the road last month and only lost to No. 20 Oklahoma by four points in Norman. Before Wednesday's loss, SMU opened the season with five consecutive wins including a 76-71 victory over Arkansas. They lost on the road to Boston College over the Thanksgiving holiday. Coach Rompola is in her 19th year at SMU. TCU and SMU have met 54 times since 1976-77, competing in consecutive years since 1982-83.