WBCA Junior College/Community College awards announced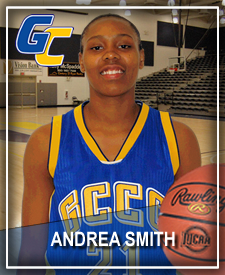 The Women's Basketball Coaches Association (WBCA) announced that Gulf Coast Community College's Andrea Smith won a the State Farm/WBCA Junior College/Community College (JC/CC) Player of the Year award. The WBCA presents the honor annually to the top players in each of the following WBCA collegiate divisions (NCAA Divisions II, III, NAIA and JC/CC) and high school.
"The WBCA is thrilled to present Andrea Smith with the State Farm/WBCA JC/CC Player of the Year award," said WBCA CEO Beth Bass in a press release. "She has had an outstanding season, and is very deserving of this achievement."
A 5' 8″ sophomore guard from Lakeland, Fla., Smith is the leading scorer for the Commodores averaging 17.2 points and 4.6 rebounds a game. At 28-1, GCCC is ranked #2 in the country in the NJCAA Top 10 National Poll.
Last year, Smith was a State Farm Coaches' All-American selection and this season was an NJCAA Pre-Season All-American selection. She was recently named the Panhandle Conference Player of the Year and also made the All-Panhandle Conference's first team while leading her team to its 13th straight conference title. Smith has helped lead her team to the programs seventh overall NJCAA women's basketball tournament appearance and this year her team will try to capture a third national championship in eight years.
As a freshman, Smith was named to the All-Panhandle Conference first team and the FJCAA All-State first team. Smith's twin sister, Andrell, also plays for the Commodores and next year the sisters will both be attending and playing basketball for the University of South Florida.
The State Farm/WBCA Player of the Year Award is selected by the 10-member WBCA Player of the Year Committee, which consists of one WBCA-member coach from each of the nine WBCA JC/CC Regions and the committee chair.
Coach of the Year
Michael Landers of Baton Rouge Community College won the  2010 WBCA National Junior College/Community College (JC/CC) Coach of the Year. This year marks the 28th year this accolade has been presented, which has been selected by the WBCA since 1983.
Upon arriving at BRCC, Landers took over as the head coach for the first women's basketball team in school history in April of 2009.  He also took on the dual role of athletic director and coach and oversees the development and growth of the BRCC athletic department.  His team went 22-6 and won 19 out of their last 20 games this season.  Landers' team finished the year ranked #24 in the NJCAA poll.  In his first year with the Bears, Landers led his team to winning the MISS-LOU Conference and a second place finish in their district.
The  2010 JC/CC State Farm Coaches' All-America Team

| | | | | |
| --- | --- | --- | --- | --- |
| Name | Institution | Year | Pos. | Height |
| Rachel Barnes | Seward County CC | Soph. | F | 5'8 |
| Gloria Brown | Trinity Valley CC | Soph. | F | 6'2 |
| Danay Collier | Monroe CC | Soph. | G | 5'8 |
| Lateidra Elliott | Lincoln Trail College | Soph. | G | 5'6 |
| Bianca Jarrett | Chipola Junior College | Soph. | G | 5'6 |
| Olivia Major | Central Arizona College | Soph. | G | 5'7 |
| Kenyanna Martin | Contra Costa College | Soph. | G | 5'7 |
| Krystal Parnell | Monroe CC | Soph. | G | 5'6 |
| Porsha Porter | Jefferson College | Soph. | G | 5'6 |
| Andrea Smith | Gulf Coast CC | Soph. | G | 5'8 |