Game Thread: Seattle at Los Angeles. Is the rivalry over?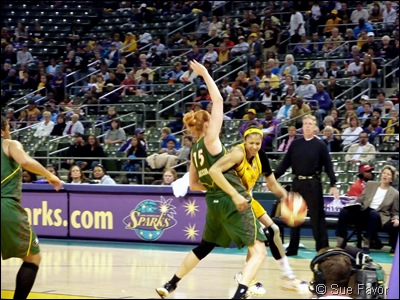 7 p.m. – An hour before tipoff, both the Sparks and Storm are shooting around. The Sparks are pretty loose, and there's some laughing. At one point when they break it down, they're doing some kind of Sparks cheer. Candace Parker stands outside the circle and says, "I'm not associated with them." A second later she yells out "Rucker Park!" They all laugh.
Adia Barnes, the Storm radio commentator who used to play for the team, is here. She recognizes me and says hi. It's nice to see her.
7:55 p.m. – Shelden Williams arrives. Lisa Leslie, who has been here at least an hour and a half, says hi to him. He seems to be a good dad, because in the fourth quarter he's doing his best to keep daughter Lailaa entertained despite his wife leading her team on a catch-up surge. He's rocking her, making faces, etc.
Lailaa is going to be TALL. And she's going to have big hands like her parents. She likes to clap during the games. For her it's just normal to see mommy playing under bright lights. She wears Adidas baby shoes and is cute as a button.
What has Lauren Jackson done to her hair? It's orange.
Talked to Sue Bird a bit ago, and she looks like a grown woman. I remember her when she first got to the Storm at age 21, with the baby face. Now she's got the grown woman face.
Parker and Svetlana Abrasimova hugged before the game. I assume they played together for Spartak in Russia.
Second quarter – The Seattle Storm dance troupe have made the trip down, and they perform at a timeout. The Sparks kids all clap for them, which I find a remarkable gesture considering they're so young. It's heartwarming.
End of the half – Camille Little of the Storm seems to score so easily. How did she get this good?
Third quarter – There's some kind of fire nearby, which is effecting air quality slightly. Nothing major, but it's still ironic that of all nights, it would happen now. For a moment a breeze begins to kick up and I'm thinking 'oh, great!' because Los Angeles has had a windy spring, much to our consternation. Wind would not be a good addition to a basketball game right now. Thankfully, though, it dies down after a moment.
Fourth quarter – During a timeout, the Sparks and Storm dance kids get on the court and dance together. I'm almost overwhelmed.
Back in the day, these two teams and their fans hated each other's guts. But with changed rosters on both teams, that seems to be pretty much gone now. To see all the kids dance together is so warm and fuzzy, I can hardly stand it.
After the game – Sparks President Kristin Bernert and Storm CEO Karen Bryant are having a friendly conversation after the game. This, along with the dance kids situation convinces me that the rivalry is dead.
Photos: Sue Favor
Sue Favor's Blog: They're Playing Basketball.