Baylor defeats Texas, Griner earns 1,000 career points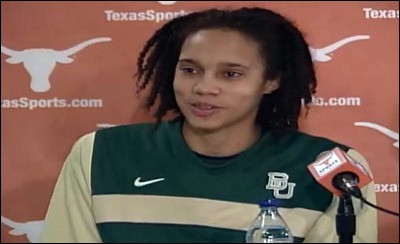 Brittney Griner post-game after the Lady Bears defeated Texas, 87-72
No. 1 Baylor (15-1, 2-0) broke the spell against Texas (11-5, 0-2) to beat the Longhorns, 87-72 in Austin Wednesday night in Big 12 Conference play. Baylor sophomore center Brittney Griner also scored her 1,000th career point in the contest in front of the crowd of 6,517.
Last year, Texas swept the two-game series between the teams.
"We didn't win here last year," said Baylor head coach Kim Mulkey post-game. "In fact, I think our record against these guys the last couple of years is like 2-5. They've had our number and I just felt like if you want to win a Big 12 Championship, you're going to have to win on the road. "
"This is our second road trip for us this year. It scares you a little bit as a coach because you have that number one in front of your name but you also look out there and you only have one senior that plays. You have a bunch of sophomores and freshman and it makes you nervous to go on the road."
However, this season the Longhorns go into the conference portion of their schedule with two losses, the first at hands of Missouri last Saturday.
It was not an easy victory for Baylor. Texas had a nine point lead at 11:55, 19-8, fueled largely by junior point guard Ashleigh Fontenette who scored half of those points. However, the Lady Bears managed to fight back and ended the first half with a two point lead, 32-30.
In the second half, Baylor never trailed but Texas was never too far behind until the last five minutes of the game when the Lady Bears began to pull away. Freshman carried most of the offensive load for Texas in the second half.
"I thought they played a really good game and made some good adjustments," said Texas head coach Gail Goestenkors. " I'm very proud of how hard we played as a team as well. I thought it was probably a really good game to watch when you consider they only had seven turnovers and we only had eight turnovers.  I thought it was really good women's basketball.  I'm obviously disappointed with the way things ended, the last couple of possessions in particular.  Overall, I feel like we saw some good things and some things we know we can do better and learn and grow from.
For Baylor, freshman and sophomores also led the way. Sophomore center Brittney Griner finished with 27 points and 10 rebounds and seven blocks while freshman point guard Odyssey Sims contributed 23 points, her tenth game in double digits.
Griner's 1,000 points came in only 51 games. It took former Lady Bear and San Antonio Silver Stars star Sophia Young 67 games to reach 1,000 points.
Freshman guard Chassidy Fussell led Texas with 25 points. Fontenette finished with 13 points. Texas hosts No. 15 Oklahoma on Sunday afternoon at 12:30 p.m. CT in a televised game on ESPNU.
Baylor heads home to play Oklahoma State at the Ferrell Center on Saturday at 1 p.m. CT.