West Virginia beats Houston in NCAA Tournament opener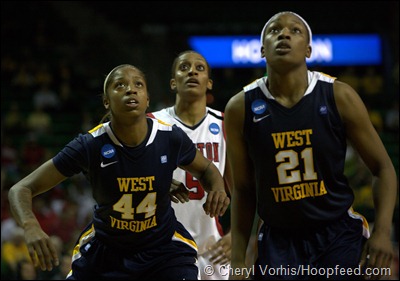 WACO, Texas – Liz Repella scored 26 points to lead the West Virginia Mountaineers to a 79-73 victory over the Houston Cougars in the first round of the Dallas Regional of the NCAA tournament in Waco.
Madina Ali added a double-double of 13 points and 15 rebounds for the ninth-seed Mountaineers (24-9) who will take on the number one seed Baylor on Tuesday in the second round. Asya Bussie also contributed double figures for WVU with 13 points.
Brittney Scott scored 24 points for Houston (26-6) while both Courtney Lee and Lesslee Mason finished with 17. Mason also had 10 rebounds.
The Mountaineers went into the break with a 37-25 lead after holding Houston to just 21.4 percent shooting in the first half.