WNBA Playoffs: Dream rebound from early deficit to defeat Sun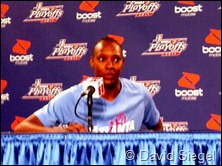 UNCASVILLE, Conn. — The format for the first round of the WNBA Playoffs is a best-of-three series. This puts a great deal of pressure on the higher seed to win that first game at home so as to not face the lower seed while facing elimination on the road. The Connecticut Sun was the only team in the four first-round series games that could not "hold serve." The Sun are down 0-1 in the series and now must travel to Atlanta and face the Dream. Atlanta overcame foul trouble and a rare off-shooting performance from MVP candidate Angel McCoughtry to defeat the Sun 89-84 at Mohegan Sun Arena Friday night in front of a crowd of 7,373.
The Sun led after each of the first three quarters of a tough, physical, defensive-minded game, but in the end the Dream out-rebounded Connecticut by a tremendous 47-29 margin, including 14-8 on the offensive end, and forced the Sun into critical fourth quarter fouls and turnovers.
Lindsey Harding led the Dream offense with 21 points, including 9-11 from the foul line (6-7 in the fourth quarter). McCoughtry contributed 16 points in only 23 minutes, and Erike de Souza also added 16. Armintie Price and Sancho Lyttle had 14 and 13, respectively, as all five Atlanta starters scored in double figures. Lyttle's defense was a huge factor in the fourth quarter, as she appeared to be everywhere, tipping balls and trapping.
The Connecticut post tandem of Tina Charles and Asjha Jones struggled against the size and quickness of de Souza and especially Lyttle, making only 12 of 36 shots combined, way below their norm. Renee Montgomery led Connecticut with 16 along with Jones.
The story of this game though, was physical defense, and the rebounding edge for Atlanta. Atlanta Coach Marynell Meadors was quick to praise the Sun, but also was proud of her team's rebounding effort.
"I've got to give a lot of credit to Connecticut, because they really put a defense on us tonight, that caused us some issues," said Meadors. "They took away most of our breakaway layups, which we normally have a lot of them. But  I also have to give credit to our team, that just played and played and persevered all the way through this game. We played with a lot of heart, we played with a lot of energy, and we just never gave up. We did a super job on the boards, anytime you can outrebound Connecticut 47-29, your bigs and your guards are really rebounding the ball well, and I thought that was probably the biggest part of the game."
While disappointed with the outcome, and acknowledging the difficult task ahead, Sun Coach Mike Thibault was not ready to give up on his team yet.
"It's going to be hard," he said. "We'll have to play a great game on Sunday, and learn from our mistakes, watch film tomorrow as a group, walk through some things when we get down there. This is a pretty resilient group. Our mistakes tonight were not from lack of playing hard, I think some of it was lack of playoff experience, some of it was them being a little more physical than us, and understanding you can do that in the playoffs. Understanding some things are going to be called and some aren't, and to know the difference between what they are. It's a shame to let a game get away we had a lead in, but it never felt like a game anyone was going to be safe no matter what, until it got late in the game. "
Game two is Sunday in Atlanta.