Oklahoma State University community and women's basketball world still reeling over tragedy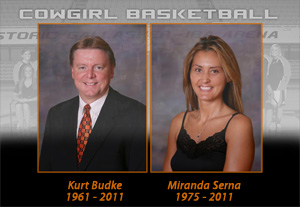 The Oklahoma State University community including the residents of Stillwater are still trying to come to grips with the losses of women's basketball coach Kurt Budke, assistant coach Miranda Serna and OSU alumni Olin and Paula Branstetter. The four were killed Thursday night in a plane crash in Perry County, Arkansas.
The school cancelled scheduled games for the team this weekend and a memorial will be held Monday afternoon on campus at 1 p.m. CT in Gallagher-Iba Arena. The service is open to the public.
The shock of the incident is underscored by the eeriness of it happening in the tenth year after a plane carrying the school's men's basketball team crashed in field  in Colorado killing two players, six team staffers and the two-person crew.
"This is a sad day for OSU Cowboy Nation," said T. Boone Pickens, a graduate of OSU and a major supporter of the athletics program. "I'm stunned and saddened that another tragedy has hit our basketball program.  My heart goes out to so many… Kurt Budke's and Miranda Serna's families as well as the members of the OSU women's basketball team who have been touched by their passionate commitment to sportsmanship, competition and un unwavering focus on responsibility. I grew to know and respect Coach Budke during his seven-year coaching history at OSU. His star burned bright and his loss will sadden yet strengthen the University for generations to come."
Former players of Budke and Serna from OSU alumnae to AAU, junior college and other NCAA Division I institutions were also in shock.
"Coach Budke was my AAU coach in Texa… Can't believe it," tweeted the current WNBA MVP and Indiana Fever player Tamika Catchings.
Oklahoma native Betty Lennox, a WNBA player for the Tulsa Shock, also expressed her feelings about the situation to News 9.
Many coaches are wearing orange ribbons and attire in memory of Budke and Serna, colleagues who they saw not only at games but on the recruiting trail throughout the year.
"I loved talking to Miranda in the gyms," said Lisa Bodine who writes about girl's high school and women's college basketball. "She was really passionate about the game."