Just like old times for Baylor and Texas A&M in Big 12 tournament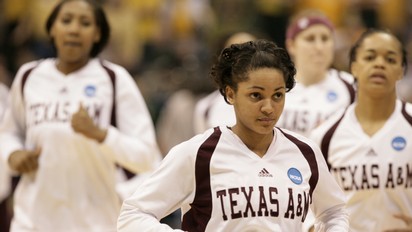 Saturday, March 10
Tip-Off:  11:08  a.m. (CT)
 Location: Kansas City, Missouri
Arena: Municipal Auditorium (9,308)
Television: FSN
Talent: Ron Thulen (pxp), Brenda VanLengen (analyst), Cindy Stein (sideline)
Live Stats: Big12Sports.com
For the second straight year and third time overall, Baylor (33-0) and Texas A&M (22-9) will met in the Big 12 Championship finale.
Third-seeded A&M defeated Oklahoma 79-66 in the semifinals Friday with a new starting lineup featuring Alexia Standish, Sydney Carter, Skylar Collins, Adaora Elonu and Kelsey Bone. Earlier that day Baylor routed Kansas State, 86-65, led by a record-setting performance from center Brittney Griner. The 6-8 phenom scored a Big 12 Championship-record 45 points in the semifinal vs. the Wildcats. A win today would extend Baylor's program-best start to 34-0 and match the program's 2010-11 school-record 34 victories.
Oklahoma leads all Big 12 teams with four league tournament titles while Baylor has three.
The Series
Baylor leads the series vs. A&M 49-36 and has won 10 of the last 11 contests. This season the Lady Bears claimed a 71-48 win in Waco  and a 69-62 victory in College Station.  In the two games the Lady Bears posted a +15.0 scoring margin (70.0-55.0) and maintained a +10.5 rebounding margin (42.0-31.5). They also shot .461 from the floor while limiting the Aggies to .367.
Free Throw Prowess
Over the last 14 games, Brittney Griner shot 84.5 percent (82-97) from the free throw line. She improved her free throw shooting from .684 her freshman season to .803 this season.
Around the Web