Best rivalry in women's hoops? Notre Dame-UConn nearly sold out for January game in Connecticut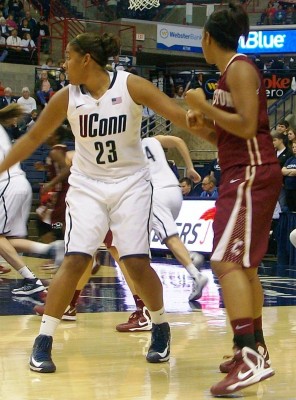 North Carolina versus Duke. Baylor versus Stanford. Tennessee versus Kentucky. All great games, either having history or building it as time goes on.
Perhaps the best rivalry in women's hoops right now, however, is Connecticut versus Notre Dame.
As the Irish prepare to depart the Big East conference, the intensity has grown. Even though Connecticut has a lifetime 29-8 record against Notre Dame, the Irish have won four of the last five games between the two sides, including an 83-75 overtime victory in last year's Final Four.
As of today, almost two full months from their January 5, 2013 game in Connecticut, there are already less than 500 tickets remaining for the first matchup of the season between Muffett McGraw and Geno Auriemma's teams.
Assuming the series continues, it will be the beginning of Breanna Stewart's career versus Notre Dame; it also begins Skylar Diggins' final season facing the Huskies.
It promises to be one of the best matchups of the season, with two to three more still to come.
What other matchups generate the excitement of this one? Please tweet me your favorites at @DishNSwish or @Hoopfeed.