Dishin & Swishin 12/13/12 Podcast: Lindsay Gottlieb has the Cal Bears stalking Stanford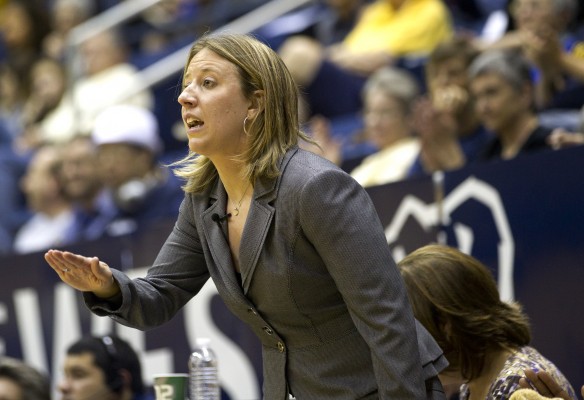 [display_podcast]
For years great minds in women's basketball have pondered the question, "when will another program come around to challenge Stanford for West Coast supremacy?" Many have tried, none have succeeded. However, on the campus of the University of California, Berkeley a woman from Scarsdale, New York has her team believing that the future is now, and the Cardinal can be caught.
Lindsay Gottlieb, the head coach of the Cal Bears, took a winding path across the country to get to her dream job. From the snow of Brown, Syracuse, and New Hampshire, to the mild temperatures of Richmond, to beautiful Cal and then Santa Barbara, Gottlieb finally landed the head job at Berkeley after her mentor Joanne Boyle left for Virginia.
Now in her second season, Gottlieb is the first coach in Cal program history to win 20 games in her first season. With Stanford having a team that might not be as strong, at least on paper, as recent years, preseason pundits had Gottlieb's Bears a legitimate challenger for the Pac-12 title.
However, Cal is not content with just making a one-year run; Gottlieb is striving to build a program for the long run. She easily drops names like Stanford, Connecticut, and Tennessee in discussing teams she is modeling her organization after, squads based on balance, and spreading the ball around, while preaching defense.
It seems to be working. Cal is at their highest position of the season in the polls, and has a 7-1 record, their only loss being on the road to No. 4 Duke. They are tied for the conference lead in scoring with Stanford, and are second in team defense to the Cardinal.
Five players are averaging in double figures, led by sophomore guard Brittany Boyd at 14.1 points per game. Boyd is one of the most exciting players in the country, a guard in the vein of Cappie Pondexter; strong, physical and aggressive. She also leads the team in assists and steals.
Senior Layshia Clarendon is the leader on the court, a preseason All Pac-12 selection, and a finalist for the Lowe's Senior Class award for her achievements on and off the court. Gottlieb raves about her seniors, and Clarendon especially, stating that she is a legitimate WNBA prospect.
It is impossible to discuss the involvement of Tierra Rogers with this team. The senior has never been able to play for Cal, but she has put her mark on the program by being at every practice, every game. She is an inspiration to her teammates and her coaches, and Gottlieb points out that Rogers has had an impact on her own coaching career.
The out-of-conference schedule for Cal will be ending with games against Northwestern, Kansas and George Washington, but the strength of the Bears will be tested even more by the January conference schedule they face.
January begins with road games at 7-1 Utah, followed by a game at undefeated Colorado. That will be followed by back-to-back games with Stanford in five days (first home, then away). Home games against difficult opponents, USC and UCLA, follow. Finally, Colorado and then Utah come to Berkeley. That is eight games against teams with a combined record of 31-6!
Gottlieb joined the Dishin & Swishin podcast to discuss her team, their development, and expectations. She also discussed the scheduling quirks of being on the West Coast and trying to chase down Stanford, building a program she can be proud of, and sustainability.
Overall, it was a fun chat with one of the best coaches that you may not know much about…yet.
Enjoy the podcast!