Hartley, Dolson key in UConn grinding out a physical victory over Louisville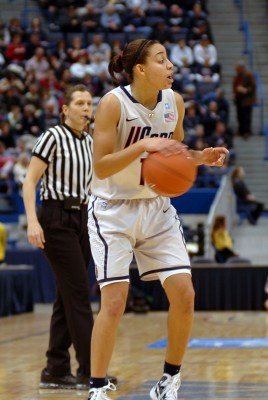 Connecticut has not had a difficult season of multiple-player injuries like other teams such Maryland with two point guards downed by ACL woes but there is no question head coach Geno Auriemma would love to look down his bench and see a full contingent of healthy players.
The Huskies were missing freshman Breanna Stewart, but returned guard Bria Hartley to the court last night, and almost lost a few more players to the physical play of Louisville in defeating the Cards, 72-58 in front of 8,702 people in Hartford.
Auriemma was not complaining about the aggressive nature of Louisville coach Jeff Walz's team. In fact, he enjoys playing against them.
"We knew going in it that it was going to be one of those games where you need to make plays against pressure," said Auriemma. "Every time you cut, every time you want to pass the ball. They play hard and they play physical. There's nothing wrong with that."
Hartley stayed on the court for 33 minutes, and while her three-point shooting was still a struggle (3-for-11), the rest of her game was outstanding, hitting three of four shots inside the three-point line, corralling seven rebounds, and aggressively defending Louisville's guards. The Louisville trio of Bria Smith and sisters Shoni and Jude Schimmel combined to hit only 13-of-38 shot attempts.
Hartley had missed practice time after rolling the ankle against Marquette on Saturday.
"I didn't have any expectations going in," said Auriemma about Hartley. "If it looked great and she doesn't have to come in and out and play all the time, we were going to let her go. She played a lot of minutes tonight and I don't know if I wanted to do that, but I figured that if she came out and sat for a long time that might be worse than staying out there."
With Stewart out, it was the rare game where the opponent's bench outscored that of the Huskies. Jude Schimmel, Monique Reid, and Megan Deines scored 19 for the Cardinals, while UConn's Moriah Jefferson, Brianna Banks, and Kiah Stokes were the only to score off the Husky bench, totaling 13 points.
Connecticut center Stefanie Dolson continued her outstanding play in the post, scoring 16 points, while adding nine rebounds and three assists.
After a first half dominated by the Huskies, Louisville played a more inspired second half, and finished the game tying UConn for the half at 35, which pleased Walz.
"You look at the score, we played them evenly the entire second half," said Walz. "We only turned the ball over three times in the second half and we only gave up two offensive rebounds. I think we've got to be excited about some of the things that we did."
Barring a Big East tournament or NCAA tournament game, potentially this was the last matchup between these two for the foreseeable future, with Louisville bolting for the ACC after this season. That is unfortunate, as the two coaches clearly like and respect each other, and the teams play similar aggressive styles that make for an enjoyable game.
When you find good matchups, you hope they continue. Hopefully, these two schools will find a way to continue their rivalry in the future.