Sparks' Candace Parker Named 2013 WNBA Most Valuable Player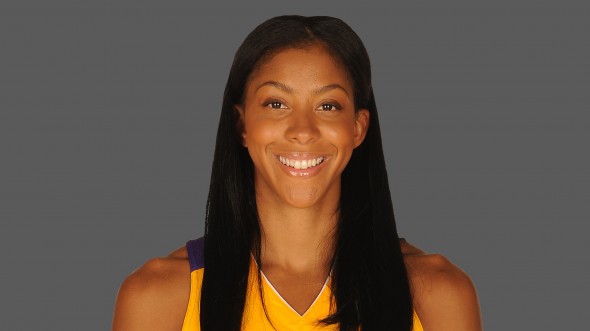 From the league:
Candace Parker of the Los Angeles Sparks has been named the 2013 WNBA Most Valuable Player, the WNBA announced today. Parker received 234 points (10 first-place votes) from a national panel of 39 sportswriters and broadcasters.
This marks the second time Parker has won MVP honors in her six-year WNBA career. As a rookie in 2008, she became the first player in WNBA history to earn both MVP and Rookie of the Year honors in the same season. Parker becomes the fifth player to earn multiple WNBA MVP awards, joining Lauren Jackson (three), Lisa Leslie (three), Sheryl Swoopes (three), and Cynthia Cooper (two).
This season, Parker guided the Sparks to a 24-10 record, tied for the second-best mark in the league, and the Western Conference's No. 2 seed. She ranked fourth in blocks (1.84 bpg), sixth in scoring (17.9 ppg), seventh in rebounding (8.7 rpg) and double-doubles (eight), and 12th in assists (career-high 3.8 apg). She paced the Sparks in scoring, rebounding and blocks, while ranking second on the team in assists and steals (1.29 spg). Parker scored at least 20 points 13 times, including a season-best 30 points in a 94-78 win over Tulsa on July 11.
After the Sparks started the season 5-4, Parker's strong play in July led the team to a 7-2 mark for the month. In those nine July contests, Parker averaged 19.8 points and 9.0 rebounds while earning Western Conference Player of the Month honors. She scored at least 20 points in six of the nine games and averaged 23.2 points over two weeks (five games) to earn back-to-back Western Conference Player of the Week awards. Overall, she earned three Player of the Week awards this season, increasing her career total to 13.
Also in July, Parker was crowned MVP of the 2013 Boost Mobile WNBA All-Star Game after setting a scoring record with 23 points. Her stat line for the star-studded event included 11 rebounds and 10-for-13 shooting from the field as she led the Western Conference to a 102-98 victory over the East.
Minnesota Lynx forward Maya Moore finished second in the voting with 218 points (10 first-place votes) and Chicago Sky rookie forward/guard Elena Delle Donne finished third with 189 points (seven). Rounding out the top five vote-getters were Sky center Sylvia Fowles (109, six first-place votes) and Atlanta Dream forward/guard Angel McCoughtry (90 points, two first-place votes), who finished fourth and fifth, respectively.
Players were awarded 10 points for each first-place vote, seven points for each second-place vote, five for third, three for fourth and one for each fifth-place vote received.
In honor of being named the WNBA Most Valuable Player, Parker will receive $15,000 and a specially-designed trophy.
Below are the complete results of the 2013 WNBA Most Valuable Player of the Year award votes and a list of past recipients:
2013 WNBA MOST VALUABLE PLAYER VOTING RESULTS
| | | |
| --- | --- | --- |
| Points | Player | Team |
| 234 | Candace Parker | Los Angeles Sparks |
| 218 | Maya Moore | Minnesota Lynx |
| 189 | Elena Delle Donne | Chicago Sky |
| 109 | Sylvia Fowles | Chicago Sky |
| 90 | Angel McCoughtry | Atlanta Dream |
| 69 | Diana Taurasi | Phoenix Mercury |
| 43 | Tamika Catchings | Indiana Fever |
| 34 | Lindsay Whalen | Minnesota Lynx |
| 13 | Tina Thompson | Seattle Storm |
| 7 | Lindsey Harding | Los Angeles Sparks |
| 5 | Nneka Ogwumike | Los Angeles Sparks |
| 1 | Seimone Augustus | Minnesota Lynx |
| 1 | DeWanna Bonner | Phoenix Mercury |
| 1 | Tina Charles | Connecticut Sun |
ALL-TIME WNBA MOST VALUABLE PLAYER AWARD WINNERS
| | | |
| --- | --- | --- |
| Year | Player | Team |
| 2013 | Candace Parker | Los Angeles Sparks |
| 2012 | Tina Charles | Connecticut Sun |
| 2011 | Tamika Catchings | Indiana Fever |
| 2010 | Lauren Jackson | Seattle Storm |
| 2009 | Diana Taurasi | Phoenix Mercury |
| 2008 | Candace Parker | Los Angeles Sparks |
| 2007 | Lauren Jackson | Seattle Storm |
| 2006 | Lisa Leslie | Los Angeles Sparks |
| 2005 | Sheryl Swoopes | Houston Comets |
| 2004 | Lisa Leslie | Los Angeles Sparks |
| 2003 | Lauren Jackson | Seattle Storm |
| 2002 | Sheryl Swoopes | Houston Comets |
| 2001 | Lisa Leslie | Los Angeles Sparks |
| 2000 | Sheryl Swoopes | Houston Comets |
| 1999 | Yolanda Griffith | Sacramento Monarchs |
| 1998 | Cynthia Cooper | Houston Comets |
| 1997 | Cynthia Cooper | Houston Comets |