SEC schools gear up for "We Back Pat" Week, January 19-26, 2014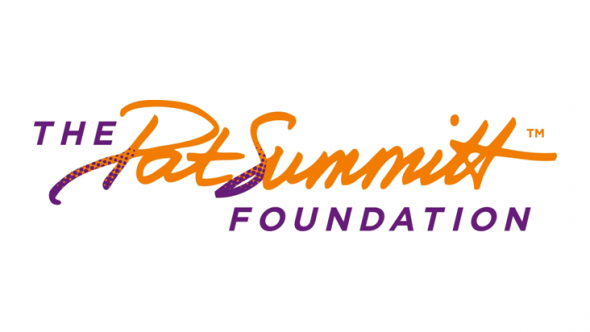 The SEC in cooperation with its 14- member institutions has for the third year organized a "We Back Pat" Week. The week-long initiative is focused on bringing awareness and recognition to The Pat Summitt Foundation, a fund of East Tennessee Foundation, and its fight against Alzheimer's disease.
During the week of January 19-26, SEC member institutions will offer support of The Pat Summitt Foundation during their home basketball games. At every SEC women's basketball game – 19 games in 13 cities – a variety of efforts including promotional public address announcements and video endorsements will help to increase awareness of the foundation and its mission. The Foundation offers the sale of "We Back Pat" t-shirts and wristbands as well as a number of autographed and specialty items on their website at www.patsummitt.org.
ESPN has also announced that three Southeastern Conference (SEC) women's college basketball games across ESPN2 and ESPNU on Sunday, Jan. 26, will honor former Tennessee coach Pat Summitt as part of the SEC's "We Back Pat" initiative. No. 10 South Carolina will face Vanderbilt on ESPN2 and Auburn will play Florida on ESPNU – both at 2 p.m. – followed by No. 8 Tennessee against Texas A&M at 4 p.m., also on ESPN2.
"I am again honored and humbled that the Southeastern Conference schools are continuing to support the work of the Pat Summitt Foundation's fight against Alzheimer's. This annual SEC "We Back Pat" week brings great public awareness for our cause and helps raise funds for research, patient services and education," said Foundation co-founder Pat Summitt.
"I want to thank the SEC and all the member institutions who are participating along with ESPN for their support. It means so much to Tyler and me that you have again joined us in our efforts. Together we will win."
Sunday, Jan. 19
Time (ET)
TV
Georgia at Florida
1:00 PM
CSS
Kentucky at Auburn
2:00 PM
SEC TV
LSU at Vanderbilt
2:00 PM
SPSO
Alabama at South Carolina
3:00 PM
Ole Miss at Arkansas
3:00 PM
Mississippi St. at Texas A&M
3:00 PM
Monday, Jan. 20
Notre Dame at Tennessee
7:00 PM
ESPN2
Thursday, Jan. 23
Florida at Tennessee
6:30 PM
SPSO
Auburn at Kentucky
7:00 PM
Mississippi St. at Ole Miss
7:00 PM
Texas A&M at Missouri
8:00 PM
Auburn at LSU
8:00 PM
Sunday, Jan. 26
Arkansas at Kentucky
1:00 PM
SPSO
LSU at Ole Miss
2:00 PM
SEC TV
South Carolina at Vanderbilt
2:00 PM
ESPN2
Missouri at Mississippi St.
3:00 PM
SPSO
Auburn at Florida
3:00 PM
ESPNU
Georgia at Alabama
3:00 PM
CSS
Tennessee at Texas A&M
4:00 PM
ESPN2