Reflecting on the careers of UConn's Stefanie Dolson and Bria Hartley, business as usual on senior day for the Huskies
Listen: Geno Auriemma on Bria Hartley and Stefanie Dolson

---
STORRS, Conn. — Senior day is a bit of a strange day for those seniors on top ranked programs. It may be your final regular season game at home, but you will most likely have additional home games in the conference or NCAA tournaments.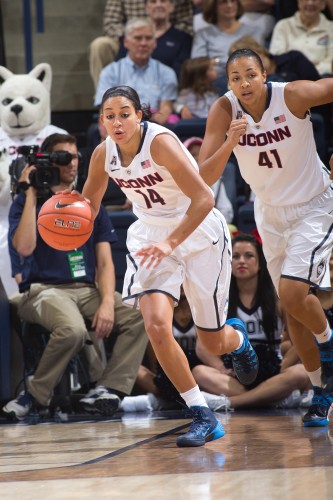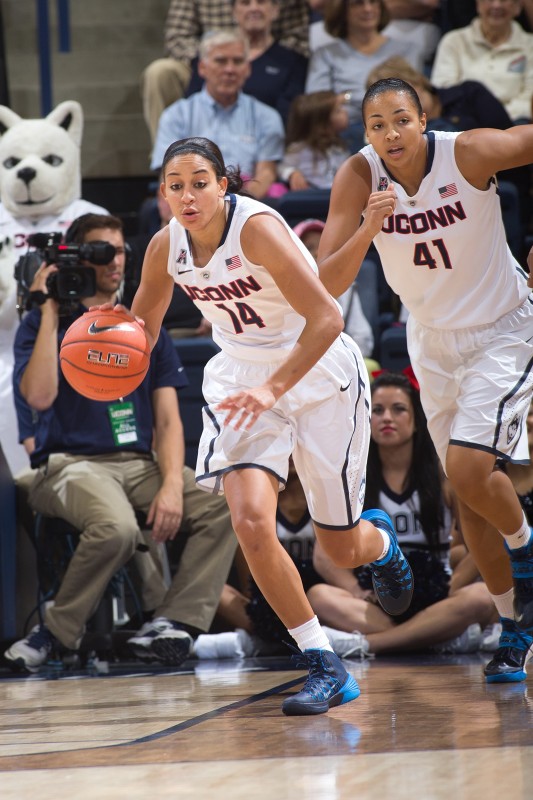 Such is the case at UConn, where a sellout crowd of 10,167 at Gampel Pavilion watched seniors Stefanie Dolson and Bria Hartley honored for their careers and accomplishments Saturday. Then it was business as usual, as the Huskies defeated Rutgers 72-35.
This senior day was a first for UConn, as both of their seniors earned All-American accolades, thereby putting their jersey numbers in the Huskies of Honor in the rafters at Gampel, joining such previous luminaries as Kerry Bascom, Rebecca Lobo, Sue Bird, Diana Taurasi and Maya Moore.
Both evolved over their careers. Hartley was more developed as a freshman, but having been both a soccer and lacrosse standout in high school, needed to focus on basketball full time to become the confident leader she is now. Dolson's physical transformation has been well documented, but she has also mentally become perhaps the toughest player on the team, never losing her cool despite the physicality of playing in the paint every game.
"It was pretty exciting," said Hartley postgame. "When the curtain drops and you see your number up there, that's pretty awesome. Ever since I was a freshman that was one of my goals, to have my number up there, so it was pretty exciting."
Dolson, dropped the arms of her parents and danced her way to center court, where she virtually lifted coach Geno Auriemma in a bear hug.
"It was really last minute," she said of her entrance. "I just winged it. It was a lot of fun. It was partially to keep me from crying. I figured what better way to go out than the way I came in, dancing."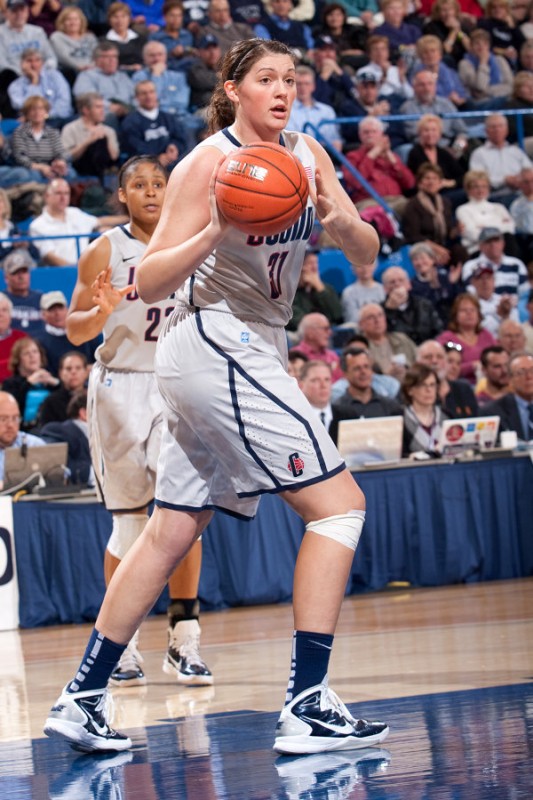 On the court, the Huskies were thrilled to welcome back junior forward Kaleena Mosqueda-Lewis, who missed four games with mononucleosis. Auriemma joked they needed her because "we shot the ball really well, so we needed someone to put a dent in those numbers." She was 3-for-10 in 27 minutes.
For Mosqueda-Lewis, who said she felt good after the game, returning in time for senior day was significant.
"It was really important. I've known Bria and Stef for a really long time, since I was about 14 years old. I've played with them and against them, so being able to play with them in their last regular season game at Gampel was important to me."
Hartley scored 20 points for the fourth consecutive game, while Dolson scored six points and pulled down 10 rebounds. The sophomore duo of Breanna Stewart and Moriah Jefferson continued to impress, with Stewart scoring 20 points and adding ten rebounds, while Jefferson had nine points on perfect shooting, five rebounds, and four assists.
Stewart said the team was not going to let down Dolson and Hartley on their day.
"We wanted to make sure that we won this game," she explained. "One of the worst games to lose is senior night for your seniors because they deserve to win their last game."
The win clinches at least a tie for the first American Conference regular season championship, while a victory over Louisville on Monday night will give them the championship and top seed in the conference tournament outright. A Louisville win and they will share the regular season title and flip a coin to determine top seed.
"We don't share very well here at Connecticut," said Auriemma of the race for the regular-season title. "We are not into having parades if you tie for the league championship."
For one day though, it was a celebration, and it was all about future WNBA draft picks Dolson and Hartley. Dolson summarized it beautifully.
"Today was so special," she said. "The environment tonight was amazing to have all of these fans come out for the two of us. To be able to share it with Bria, we came in together as freshmen and endured such similar journeys throughout our careers. To be able to end it together is a moment we will never forget."