Cal refocused after the Pac-12 tourney, ready to help showcase women's basketball in the Bay area as an NCAA early round host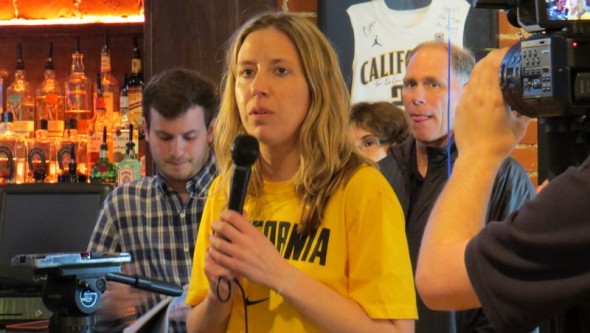 BERKELEY – The last time California (23-9) simultaneously hosted and played in the NCAA tournament was 1992 when the Bears lost to Santa Clara 73-71 in the first round. With an at-large berth in the NCAAs, head coach Lindsay Gottlieb was adamant that her fourth-seeded team deserved to host early round games this year and made that clear after the Bears fell to No. 14 Stanford (24-9) in the final of Pac-12 tournament on the evening of Sunday, March 8, 61-60.
"I think if you're watching games and you're following women's basketball, and you've seen us play, and you don't get to see us live that much, I think you would think, wow, that is a team that's a top 16 team in this country and they should be hosting, as is Stanford," said Gottlieb in response to a question about whether or not Cal lost an opportunity to host after losing in the league final.
"I think we both deserve to host. And we were both in the final, so I think that solidifies both as some of the top 16 teams in the country."
Monday afternoon, during the team's selection show party, Gottlieb referred to her comments after that loss and is now focused on the task ahead: beating thirteenth-seeded Wichita State (29-4) in her team's first matchup in the NCAA tournament as well as being in the mix of a busy weekend for women's basketball in the Bay area. Across the bay, No. 4 seed Stanford is hosting No. 5 Oklahoma (20-11), No. 12 Quinnipiac (31-3) and No. 13 Cal State Northridge (23-9) in the Oklahoma City region.
"I think the Bay area has some of the best women's basketball fans in the country," said Gottlieb. "I think we're on alternate days, which is awesome. You can be a women's basketball fan in the Bay and see both local [Pac-12] teams hosting."
Cal is competing in the Albany region and a game between No. 5 Texas (22-10) and No. 12 Western Kentucky (30-4) will precede the Bears' contest vs. the Shockers.
"I'm excited to showcase Cal women's basketball on the biggest stage possible in the NCAA tournament, right here at home," said Gottlieb.
She reiterated her feelings about her team deserving to play at Haas Pavilion in the first round.
"I'm just happy to have a chance to play an NCAA tournament at home, that is something that we earned."
The Bears began the regular season ranked No. 15 in the Associated Press Poll and No. 14 in the USA Today coach rankings. They rose as high as No. 10 in the AP poll before suffering three straight losses to knock them out of the polls altogether. However, during February, they strung together eight straight Pac-12 wins including a victory over then No. 10 Arizona State in Tempe.
"Anyone who was [following] us closely saw the way we were playing at the end of the season. You know that's why I just felt strongly that we should be at least in that group of 16," said Gottlieb, "and I'm happy that the committee felt that way but there's nothing you could do this week other than get your team ready for whatever's coming so I said my peace that Sunday night and then we just focused on us this week."
Gottlieb began watching tape on Wichita State Monday night and is impressed with their record and history of conference tournament success. The Shockers won their third straight Missouri Valley tournament title last weekend.
"That's a strong conference, they're 29-4 and doing a lot of things right. I expect them to be really, really good."
The Bears and the Shockers have never faced each other. Wichita State enters the tournament for the third consecutive season under seventh-year head coach Jody Adams and set a new school record this season for wins with 29. They enter the contest with Cal on a 12-game winning streak with one of the top defensive squads in the nation, allowing just 51.0 points per game on the season, which currently ranks fourth in all of NCAA Division I.
Action in Berkeley begins on Friday, March 20 with Texas and Western Kentucky tipping off at 2 p.m. PT followed by Cal and Wichita State. The game will be televised on ESPN2.