Pac-12 commissioner discusses keys to women's basketball success in the conference
2015-16 Pac-12 Media Day Twitter Recap
Pac-12 commissioner Larry Scott, now in his sixth year at the helm of the conference, opened the league's women's basketball media day Wednesday with comments outlining his three keys to success for the conference's programs: depth, exposure and tournament stability.
Depth
While Stanford has a long history of being a top 25 team year after year, a few other teams in the conference have emerged to overtake the Cardinal in preseason polls this season. Oregon State and Arizona State join Stanford in the top 20 of early preseason polls from Athlon Sports and Lindy's Sports.
National Preseason Rankings
Lindy's
Athlon
7. Oregon State
14. Arizona State
14. Arizona State
17. Stanford
19. Stanford
18. Oregon State
In the Pac-12's preseason coaches' poll, Oregon State topped the list followed by Stanford, Arizona State and a tie between California and UCLA.
"Teams like Oregon State and Arizona State are being recognized throughout our conference and nationally as being the real deal," said Scott, "having a lot of great returners. And of course, no one ever counts Stanford out. People have recognized the development of Cal, UCLA and other strong programs that we have in the conference."
Scott also mentioned strong postseason performances of Pac-12 teams as a measure of the conference's depth.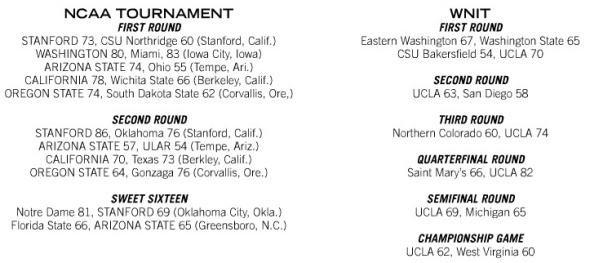 Last season five Pac-12 teams earned berths in the NCAA tournament (Arizona State, Cal, Oregon State, Stanford and Washington) with four of those teams hosting first and second round games.
Stanford and Arizona State reached the Sweet Sixteen and all of the teams that played in the NCAA tournament, except for Washington, were ranked in the season's final Associated Press poll.
UCLA and Washington State participated in the WNIT tournament. Washington State lost in the first round but UCLA beat West Virginia for the championship. With that victory capping last season, the Bruins are "coming into this year with a lot of momentum and a lot of excitement in that program" said Scott.
The logjam at the top of the conference's preseason standings creates uncertainty about who will emerge as the Pac-12 champion in 2015-16.
"I can't recall a time since I've been here where you start the season and you see four or five teams and you don't necessarily know which one is going to win," commented Scott. "I like that."
For him, the increase in depth has "been a lot of fun to watch and see develop."
"As I look at the recruiting, as I look at the tremendous caliber of coaches we've got across the country, the investment in facilities, I sit here today very optimistic about where Pac-12 women's basketball is going this season and beyond."
In addition, Scott was pleased with the non-conference schedules programs put together for 2015-16.
"I like that our coaches are not shying away from big time matchups. When I look at our schedule, it's fabulous."
Exposure
With the launch of Pac-12 Networks in 2012, teams in the conference have experienced an uptick in television broadcasts and live streams.
"We're going to be telecasting approximately a hundred women's basketball games this season," said Scott. "If I compare that to about four years ago, it's about five times the number of games than we had previously thanks to our partnerships with ESPN, and of course, the Pac-12 Networks. So tremendous exposure not just within our footprint but nationally which helps in a lot of respects, certainly in terms of the national attention and following the conference can get. From a recruiting perspective, engagement from alumni and others, it's terrific."
Pac-12 Networks coverage this season also includes two preseason games: South Carolina Aiken at Colorado on Sat. Nov. 7 and Warner Pacific at Oregon on Wed. Nov. 11.
Opening weekend coverage includes three games:
Nov. 14 Loyola Marymount at Colorado, 1 p.m. ET (Pac-12 Networks Live Stream)
Nov. 15 Cal at Louisville, 11 a.m. PT (ESPN 3)
Nov. 15 Kentucky at Arizona State, 2:30 p.m. PT (Pac-12 Network)
Full 2015-16 Pac-12 Women's Basketball Schedule
Tournament Stability
After four straight years in Los Angeles and declining attendance, the conference moved the women's basketball tournament to Seattle in 2013. Coaches supported the change in venue and according to Scott, the league has a "great, stable and growing situation in Seattle."
"It's nice to be in that position. It was only a few years ago that the conference was trying to figure out what's the right model, where are we going, are we going to change, and I really feel like we have a very solid foundation there, something that we can build upon."
The initial contract for the tournament's Seattle location with Force 10 Sports Marketing (the owners of the WNBA Seattle Storm), the Seattle Sports Commission and the Seattle Center was for three years. In March, the contract was extended through 2016. However, the tournament's success in the Pacific Northwest does not mean it will stay there for the long term.
"We are still on track to be evaluating between now and the Pac-12 women's basketball tournament in March what our future plans will be," said Scott about the tournament's location. "We're trying to calibrate that in parallel to our evaluation of the men's tournament which we've enjoyed having in Las Vegas. There's a new arena going up in Las Vegas. We're evaluating that and we're trying to evaluate those two things at the same time. So I expect around the time of our tournament that we'll have some news on that as well."
With that caveat expressed, he continued to gush about Seattle.
"We love Seattle and are very happy with the way the women's basketball tournament has taken root and established itself. It's growing in attendance every year. We've got a knowledgeable fan base that comes out and supports the event, great promoter partners that we work with, so we're happy with what we have at the moment."
China in the Future?
Another topic that came up during his time with media was the possibility of a women's team playing in China during the regular season since the Washington men will face Texas on Nov. 14 in Shanghai in the first-ever Pac-12 China Game.
"It's kind of one foot at a time in front of another, try not to get out in front of ourselves too much," said Scott. "But I will say that we are very pleased and excited with the way the plans are shaping up for this first-ever regular season competition in China. We have dipped our toes in the water by bringing the Cal women's basketball team over to China for a tour and exhibition games a few years ago."
While Scott could offer no concrete answers about the possibility of a women's game in China, he did express hopefulness.
"If things continue to develop the way I think they will, we may very well be talking about regular contests in women's basketball over there too."
The Pac-12 women's basketball regular season tips off on Friday, Nov. 13 with seven teams in action.