Kristine Anigwe's 43 points helps No. 18 Cal rebound from loss with record-breaking performance vs. Sacramento State, 117-99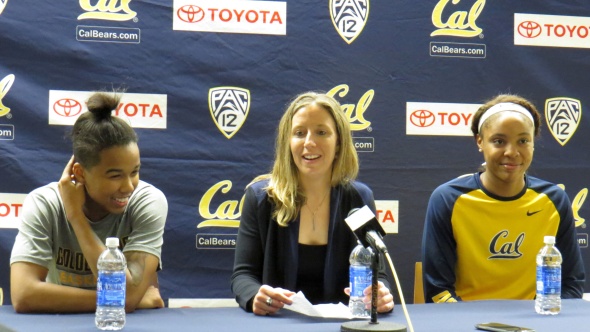 The California Golden Bears bounced back from a heartbreaking loss in the first game of the Cal Classic to earn a record-breaking 117-99 win over Sacramento State in the tournament's consolation game Sunday afternoon at Haas Pavilion. Paced by freshman forward Kristin Anigwe's 43 points and 10 rebounds, the Bears set a new mark for most points scored in a game, breaking a previous record of 115 set in 1989 vs. Southern California. The Bears also scored 68 points in the first half.
Cal came into the contest after a shocking 64-63 defeat at the hands of the Saint Mary's Gaels on Saturday. Head coach Lindsay Gottlieb challenged her young team to perform at a higher level in the consolation game.
"What I'm most concerned about is how we respond," she said after losing to SMC. "I know that sounds like such a cliché but we have a young group and there are no other nine players I'd rather be with whether we win or lose. There's no other group I'd rather come to work with."
And respond they did. The Bears shot a program-record 69.3 percent (previous best was 68.7 vs. Weber State in December 1979). In addition to Anigwe, four other players had double figures. Junior forward Courtney Range finished with 19 points, five rebounds on 9-of-10 shooting. Sophomore forward Mikayla Cowling had a near triple-double with 11 points, 9 rebounds and 10 assists. Freshman guard Asha Thomas also had 11 points plus six assists. Freshman guard Ma'Ane Mosley scored 10 points and pulled down six rebounds.
Anigwe's 43 points were an NCAA best so far this season. Her other accomplishments during the win:
T

he first Cal player to score 40 or more points since Reshanda Gray's 43 against Washington State on Feb. 27, 2014. She is also the first player to score 30 or more since Gray did it against USC in Feb. 2015.

A Cal Classic tournament record for points to best Weber State's Cindy Stumpf, who scored 38 against Colorado State on Dec. 5 1980.

18 made field goals to set a new Cal Classic tournament record. (Previous best: Penn State's Susan Robinson with 15 in 1990).

A third career double-double, and third in five games and second consecutive double-double.

A 

career high in rebounds with 13.

A third game of 20 or more points. She has scored double figures in every single game.
Sacramento State also had five players in double figures led by sophomore guard Taylor Brown who finished with 17 points. Other top scorers for the Hornets included Maranne Johnson (14 points, five rebounds), Margaret Huntington (13 points, four rebounds), Adella Randle-El (12 points) and Brianna Burgos (11 points).
The championship game of the tournament featured Villanova vs. Saint Mary's. The Gaels won the tournament, besting the Wildcats, 67-60. Villanova head coach Harry Perretta did not attend the tournament.
Cal's 52 field goals made (52-75) is also a program record, besting the record against Biola (49 made of 87) in January 1980.

Cal's 37 assists are a new single-game record. The previous best was 34 vs. San Jose State on Nov. 28, 2014.

Cowling's 10 assists are a new personal best. Cowling is the first player to record 10+ assists since Brittany Boyd vs. Texas on March 22, 2015.

Green recorded a season and career high of 10 assists

Mo Mosley recorded her fist collegiate assist, finishing the day with four assists. She also 

set new career-high points (10) and rebounds (6) totals.

The game was Cal's first 100+ point game since Dec 3, 2014 vs. Sacramento State, when the Bears won 107-94

KC Waters tallied a career-best five rebounds

Cal's 34 points in the 1st and 2nd quarters are a new team-high for a single quarter this season. Previous high was 29.

The Bears tallied 50+ rebounds for the first time since Louisville on Nov. 15, 2015, logging 37 boards.
Game tweets