Thirty-three players receive invitations to attend 2017 USA Basketball Women's U19 World Cup Team trials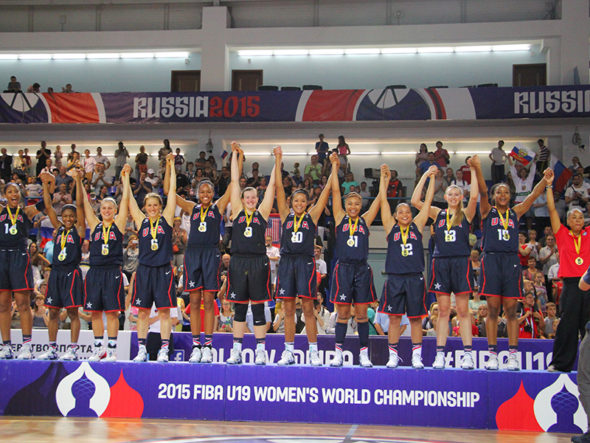 Thirty-three of the nation's top 19-and-under players have accepted invitations to attend the 2017 USA Basketball Women's U19 World Cup Team trials May 18-21 at the United States Olympic Training Center in Colorado Springs, Colorado. Invitations were issued by the USA Basketball Women's Junior National Team Committee. Athletes eligible for this team must be 19 years old or younger (born on or after Jan. 1, 1998) and U.S. citizens.
Janelle Bailey (Providence Day School/Matthews, N.C.)
Jeannie Boehm (Harvard/Winnetka, Ill.)
Chennedy Carter (Timberview H.S./Arlington, Texas)
Charli Collier (Barbers Hill H.S./Baytown, Texas)
Sidney Cooks (Saint Joseph H.S./Kenosha, Wis.)
Mikayla Coombs (Wesleyan School/Norcross, Ga.)
Gabby Cooper (Syracuse/Lansing, Ill.)
Crystal Dangerfield (Connecticut/Murfreesboro, Tenn.)
Shug Dickson (Tulsa/St. Louis, Mo.)
Kathleen Doyle (Iowa/LaGrange Park, Ill.)
Dana Evans (West Side H.S./Gary, Ind.)
Nadia Fingall (Stanford/Navarre, Fla)
Tyasha Harris (South Carolina/Noblesville, Ind.)
Ruthy Hebard (Oregon/Fairbanks, Alaska)
Tamara Henshaw (South Florida/Palm Coast, Fla.)
Becca Hittner (Drake/Urbandale, Iowa)
Joyner Holmes (Texas/Cedar Hill, Texas)
Stephanie Jones (Maryland/Havre de Grace, Md.)
Jordan Lewis (Alabama/Windermere, Fla.)
Tori McCoy (Transferring from Ohio State/Champaign, Ill.);
Aarion McDonald (Washington/Fresno, Calif.)
Minyon Moore (Southern California/Hercules, Calif.)
Kayla Overbeck (Vanderbilt/Newbury Park, Calif.)
Sedona Prince (Liberty Hill H.S./Liberty Hill, Texas)
Reili Richardson (Arizona State/Brea, Calif.)
Kylee Shook (Louisville/Colorado Springs, Colo.)
Amber Smith (Missouri/Shreveport, La.)
Alecia Sutton (Texas/St. Louis, Mo.)
Megan Walker (Monacan H.S./Chesterfield, Va.)
Evina Westbrook (South Salem H.S./Salem, Ore.)
Christyn Williams (Central Arkansas Christian School/Little Rock, Ark.)
Jocelyn Willoughby (Virginia/East Orange, N.J.)
Aaliyah Wilson (Arkansas/Muskogee, Okla)
Nine gold medalists from the 2016 USA U18 National Team that qualified USA Basketball for the 2017 FIBA U19 World Cup for Women are on the team. Texas has two players competing for spot: Joyner Holmes and Alecia Sutton. Holmes was the 2017 Big 12 Conference Freshman of the Year and a First-Team All-Big 12 selection.
With six consecutive U19 gold medals, the United States will look to make it seven in a row at the July 22-30 event in Cividale del Friuli and Udine, Italy. Pittsburgh head coach Suzie McConnell-Serio, who led the 2016 USA U18 National Team to gold, will lead the USA U19 World Cup Team and will again be assisted by Kamie Ethridge from the University of Northern Colorado and Charlotte Smith from Elon University. Additionally, Georgetown University head coach Natasha Adair and Drake University head coach Jennie Baranczyk will serve as court coaches during the trials.
Originally known as the FIBA Junior World Championship, FIBA changed the names of its age-based world championships in 2005 to reflect the age of eligibility, and recently updated the names of all of its world championships to world cups. The tournament was held every four years starting in 1985. FIBA in 2005 modified its calendar and now conducts the U19 World Cup every other year. USA women's teams are 73-12 in U19 Junior World Cups.