Pac-12 Strong As Ever Begins 2017-18 Facing Tough Foes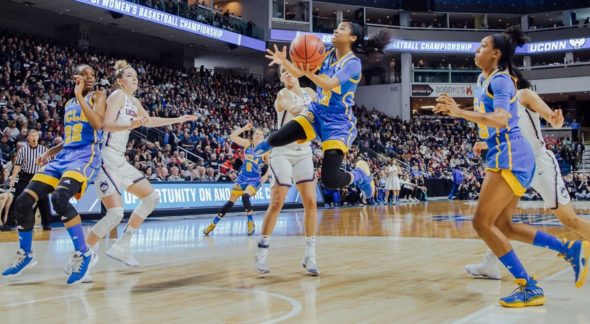 A strange thing happened in the preseason polls when it came to the Pac-12. After back-to-back historic seasons with seven teams earning NCAA tournament bids last season, everyone knows that the Pac-12 is one of the toughest, if not the best conference in the nation especially since the league had the No. 1 conference RPI the last two seasons.
But back to the preseason polls. First, when the preseason Pac-12 coaches poll came out on October 11, it was no surprise that UCLA topped the rankings. The team returns All-American candidates Jordin Canada and Monique Billings. Bruins head coach Cori Close said her squad "is the deepest team I've had since I've been there."
Of course, Stanford, tied at No. 2 in the coach rankings, is always in the mix among the elite teams in the conference. However, Washington, a program that made the NCAA tournament in each of the last three seasons, including two trips to the Sweet 16 and the Final Four in 2016, landed in the last spot. With a new head coach in place in Jody Wynn from Long Beach State, the loss to graduation of NCAA scoring leader Kelsey Plum and rebounding machine Chantel Osahor, plus the transfer to Arizona of Aarion McDonald, the Huskies will be a drastically different team in 2017-18.
Nevertheless, when the USA Today Coaches' Poll was published on October 26, Washington was tied at No. 25 with California, a team that is No. 5 in both the Pac-12 coaches and media polls. The league's media poll also put Washington in last place and the very next day, Nov. 2, the Associated Press rankings had the Huskies unranked but receiving enough votes to put the team in 36th place overall.
So, does this mean that the Pac-12 is a largely formidable conference from top to bottom or that voters did not properly do their homework when casting their ballots? Regardless, the league will begin play with at least a half dozen teams as strong contenders for successful postseason runs.
Numerous Stars Returning
Nine members of the 2016-17 All Pac-12 Team are returning this season: Kristine Anigwe (Cal), Monique Billings (UCLA), Jordin Canada (UCLA), Ruthy Hebard (Oregon), Marie Gülich (Oregon State), Sabrina Ionescu (Oregon), Kennedy Leonard (Colorado), Brittany McPhee (Stanford), and Kristen Simon (USC).
Oregon has all five of its 2016-17 starters coming back including sophomores Hebard and Ionescu. With seven players standing 6-foot-2 or taller, the Ducks are the tallest team in the Pac-12 this season.
"I go to bed smiling almost every night because I don't think I've coached so far a group that's been more fun, more competitive in my life," said Oregon head coach Kelly Graves about his team during Pac-12 media day last month.
A lot of the league's star talent include younger players. Oregon is tied with Oregon State with the youngest roster in the conference. Both the Ducks and Beavers each have just four upperclassmen this season.
Starting Off Tough, Building a "Really Good Foundation"
There is a reason why the Pac-12 has had the nation's top conference RPI for two years in row. On top of challenging conference play in the latter part of the season, teams in the league do not shy away from tough non-conference competition.
Two Pac-12 teams, AP No. 10 Stanford and No. 25 Cal will face top-ranked foe Connecticut in the first week of the season. Four days after UConn's back-to-back with Pac-12 teams, the East Coast Huskies will travel to Los Angeles to face No. 8 UCLA on Nov. 21.
Stanford begins the season taking on No. 5 Ohio State. The Cardinal will also play the top-ranked West Coast Conference team Gonzaga, No. 3 Baylor, No. 14 Tennessee and could possibly face Ohio State again in the Play4Kay Showcase over the Thanksgiving Holiday.
Stanford head coach Tara VanDerveer addressed playing a super competitive schedule.
"You don't win championships in November or December, but I think you can build a really good foundation then. You can learn a lot about your team. We have a very young team. It's like throwing our team into the deep end of the pool early."
She added that playing Ohio State and UConn early on will give her team "a sense of urgency."
"I think it's going to help our practices. There is not going to be any fluff. We're going to cut right to the chase."
Oregon has three SEC teams on its slate as well as a Big 12 squad, Oklahoma. Oregon State plays No. 6 Notre Dame early in the season and also has No. 12 Duke on the schedule.
UCLA will also face Baylor as well as Kansas State, Creighton, Oklahoma State and Seton Hall. Arizona State plays No. 7 Mississippi State later this month as well as Horizon League-power Green Bay. In December, the Sun Devils will match up versus MAC-tough Buffalo and No. 18 Florida State.
Looking Ahead to the Pac-12 Tournament and Record Number of Broadcasts
The Pac-12 women's basketball tournament takes place March 1-4, 2018 in Seattle at KeyArena. The league has an agreement to keep the tournament in Seattle until 2019. However, the arena could be undergoing a major renovation for at least three years beginning next year. Consequently, the Pac-12 will have to explore hosting alternatives for tournament.
In addition to conference games that will be televised on ESPN, the Pac-12 Network will broadcast 110 women's basketball games this season.
Postscript Poll Notes
UCLA, Oregon and Stanford all received first place votes in the league's two polls.
Five Pac-12 teams are in the AP Preseason Poll: No. 8 UCLA, No. 10 Stanford, No. 11 Oregon, No. 19 Oregon State and No. 20 California.
Six teams are in the USA Today Coaches Poll: No. 7 UCLA, No. 9 Stanford, No. 11 Oregon, No. 17 Oregon State and No. 25 a tie between California and Washington.