Washington takes first place in the East after defeating Connecticut 92-80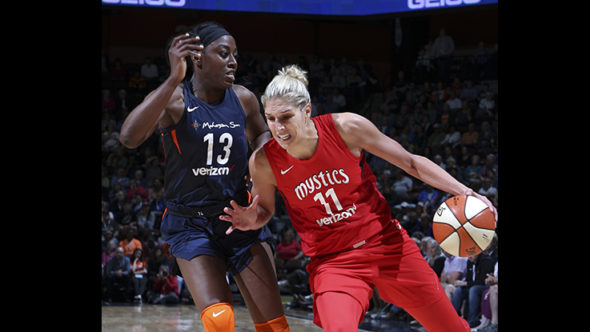 WASHINGTON – The Washington Mystics (9-5) met the Connecticut Sun (8-6) for the third time this season. The winner would rule the East and take a one-win advantage for first place.
"I think it is a rivalry," Washington head coach Mike Thibault said about the series between the franchises. "We're trying to be one of the elite teams and so are they. So, the challenge is can you do the little things better than them?"
The answer came in a 92-80 Mystics win witnessed by 4,139 fans Tuesday night at Capital One Arena, though a dominant Connecticut first quarter made Washington maneuver and adapt for the victory.
The Sun successfully disrupted a handful of Mystics possessions to settle into their tempo to start the game. Connecticut guard Jasmine Thomas' shooting propelled her team to a quick lead. The Sun's defense stymied Washington's reliable guards Kristi Toliver and Natasha Cloud.
Mystics forward Elena Delle Donne quickly took control to help her team gain some traction with seven first-quarter points. However, the Mystics weren't able to keep up, going 5-of-16 from the field. Sun players Jonquel Jones, Shekinna Stricklen and Chiney Ogwumike helped their team earn a 25-15 first quarter lead.
Monique Currie led Washington to begin the second quarter. She drove in the paint and focused on dissecting defenders for open looks. The Sun closed opportunities to help their ongoing success on offense. Connecticut continued to hold the upper hand with quick and versatile shot selection while the Mystics fought against a ten-point deficit.
The Mystics put together an impressive second quarter to clean up. Delle Donne continued to lead as Toliver's first points of the game came right on time. She sunk an open three, cutting her team's deficit to just two with 31 seconds to go in the quarter.
Washington's second chance points and eight bench points helped tie the game as the final seconds withered before the break. Guard Alex Bentley beat the buzzer for the Sun, lifting them to a tight 46-43 lead at halftime.
Washington rode the momentum from the late second quarter to obtain a 54-51 lead after Delle Donne flushed a three with 7:25 to go in the third period. The Mystics controlled the game from that point, implementing a firm offense accompanied with free throws and offensive rebounds.
"They were putting us in a lot of pick and rolls and we were missing the coverages and not doing what we had practiced," Delle Donne said. "We just talked it through here and then we knew we had to get on the boards too because they were killing us on the offensive boards. If we can get stops, we always know that our offense flows really well from there."
Washington outplayed Connecticut as they slipped in tricks like reverse lay-ups with seven seconds remaining. Currie nailed a buzzer beater and the Mystics outscored the Sun 33-15 in the third quarter for a 76-61 advantage.
Connecticut zeroed in on tough three-point plays and second chances in a comeback attempt. Forward Morgan Tuck fought to bring control and momentum to the Sun but the Mystics' 17-point lead stood strong even as the Sun outscored them 19-16 in the final quarter.
Four of Washington's five starters poured in double digit points. Delle Donne finished with a team-high of 25 points while center LaToya Sanders collected a career-high 18 points and eight rebounds.
"Our team is so versatile, and we have different people that can score on different nights, so whenever it's your night, you know soak in the moment and just always be ready." Sanders said. "You just have to be ready no matter what position you are put in."
Ogwumike earned a 17-point, 11-rebound double-double in the loss while fellow starter Jasmine Thomas finished with three points in the second half to contribute 13 points. Sun bench players Alex Bentley and Morgan Tuck landed in double-digits making up 24 of the 29 bench points. Connecticut was missing forward Alyssa Thomas who is out with a shoulder injury. She has averaged 12 points per game this season.
"Obviously she is our best athletic defender," Connecticut head coach Curt Miller said about Thomas. "We play through her in transition, our winning game has to be simulated by the guards all the time instead of having another pusher, so obviously we are affected by that injury.
Washington is on a three-game winning streak. They have three consecutive home games ahead of them. The Mystics host the New York Liberty Thursday evening. The Sun fall to second place against the Eastern foes and will focus on a home game rematch against the Indiana Fever on Wednesday.
NOTES
Points in the Paint: Mystics: 30 Sun: 34
Second Chance Points: Mystics: 22 Sun: 26
Fast Break Points: Mystics: 4 Sun: 2
Bench Points: Mystics: 18 Sun: 29
Biggest Lead: Mystics: 17 Sun: 12
The Mystics now hold a 2-1 edge over the Sun in their regular season matchups
The game featured five lead changes and five ties with the Sun up by as much as 12 and the Mystics up by as much as 17
The Sun finished with 41 rebounds in the game. It was the sixth time this season Connecticut has collected 40 or more rebounds.