Mississippi State enters season with new leaders and a balanced frontcourt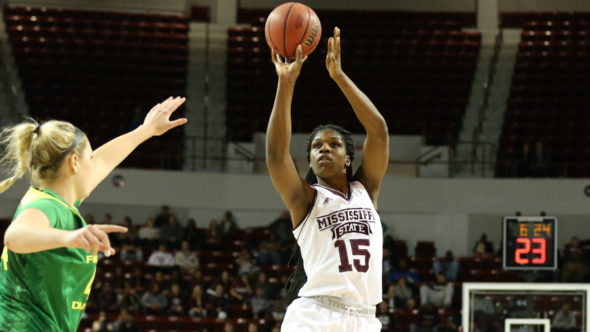 STARKVILLE – Vic Schaefer will begin his seventh season as the head coach of Mississippi State. He's seen eight seniors depart from the program in the last two years, two back-to-back Finals appearances and his team's identity has evolved and changed repeatedly.
The biggest challenges Mississippi State faces is building solid identity to begin the season. The team needs to replace the gaps left by former guards Victoria Vivians, Blair Schaefer, Morgan William and Roshunda . That quartet  averaged 48.4 points last season and led the Bulldogs to their second-straight National Finals appearance. They wrapped up their senior year as the most winning class with 126 victories and an undefeated regular season in the SEC.
It's the end of an era and a new time is dawning in Starkville as the new team will create a new identity.
"This year's team will be different in our way," Schaefer said. "I think we'll be good."
Schaefer won't be without any experience. At the forefront, senior center Teaira McCowan will take over as the leader for the 2018-2019 squad. She finished as last year's SEC Co-Defensive Player of the Year, Naismith National Defensive Player of the Year and All-American honors.
"We have to get her chances to do what she can do because she is one of the elite players in the country and can effect the game on both ends," Schaefer said of McCowan.  "[We need to get her] to continue to complete and play at the level is our challenge. Night in night out, day in, day out. She's coming off being an All American and it's time to live that every day."
Last year's team relied on a four-guard lineup, beating teams in the perimeter and utilizing McCowan's height and efficiency on the glass. Now Schaefer and the Bulldogs begin their journey as a balanced frontcourt.
Over the offseason, Schaefer nabbed graduate transfer Anriel Howard, a former Texas A& M Aggie who averaged 12 rebounds and 12 points per game. Her presence helps create the frontcourt nightmare, dominating the glass and tightening the defensive effort down low for Mississippi State. Howard brings intensity and efficiency along with McCowan. They're neck and neck in national rankings and history books as Howard is behind McCowan in career rebounds with McCowan at 1,015 and Howard at 1,002.
"She definitely helps out in many ways," McCowan said of Howard. "She'll take you off the bounce, she's going to guard you hard. She plays on every possession and that's just another person that goes hard."
The remaining guards will have to replace a stellar shooting team to create perimeter opportunities and balance between the experienced, talented post players. He has a different kind of depth at the guard position.
Schaefer starts fresh with five guards vying to earn a starting spot for the Bulldogs. Senior guards Jazzmun Holmes and Jordan Danberry will begin their final season with the most experience at their position. They appeared throughout last year's season, finishing games and coming up big, especially in the Final Four for the Bulldogs.
"I think all of them have been in big moments and games," Schaefer said on the seniors. "They understand what it takes to win at this level. I think that's a great place to start."
Danberry's displayed gritty defense in past games. The quick guard will have to step up with fellow senior guard Holmes. Both will carry the section of guards with the most experience. They appeared in national championship games and will have to crank up the efficiency to expand their contributions to the team as starters.
The younger trio of guards, sophomores Bre'Amber Scott, Nyah Tate and redshirt freshman Myah Taylor will be assets as well to the team. In past years, Schaefer relied on veteran experience from his former guards. Schaefer said he doesn't expect thing to hit the ground running, but is confident that his younger players will put their best foot forward, earning his trust and dependability throughout the season.
"My sophomores and freshman have got to play," Schaefer said. "We've got to them ready as coaches today. I don't have time for them to take their time. We've got to them ready. They're going to play right away be ready."
Schaefer's stronghold of a defense-led identity is something the Bulldogs plan to work toward. The team's inexperience plays a major role in how they will approach the season. Schaefer said he and the team acknowledge the challenge of identity and the issues that can arise since they don't know their strong suits yet.
"Our depth will be very young," Schaefer said. "I think that's the challenge for this team. It's an interesting dynamic for our team and I'm excited about it. We've got a long way to go. We've got work to do. We're a long way from being a finished product, but we're right where we're supposed to be."
The Bulldogs landed at No. 6 in the preseason Associated Press Poll, their highest in program-history. They've been picked to repeat as the regular season SEC Champion. They begin the regular season November 6 against Southeast Missouri State at 7 p.m. C.T. The game will air on SEC Network.