Stanford holds off defensive-minded BYU 72-63 to earn 12th consecutive trip to the Sweet 16
Stanford downs BYU and heads back to the Sweet 16
Notes || Social recap || Stats
STANFORD, Calif. – On a rainy night in Northern California, No. 2 seeded- Stanford (30-4) survived a relentless and defensive-minded No. 7 BYU (27-6) squad for a 72-63 win in the last game to determine the Sweet 16 field of the NCAA tournament. The victory sends the Cardinal to the round of 16 for the12th year in row.
The Cardinal join fellow Pac-12 programs UCLA, Oregon, Oregon State and Arizona State in the next round marking the second time in three years that five Pac-12 women's basketball teams are headed to the regionals (2017 was the other year).
"Well, first of all, we are very excited to be going to Chicago and be part of the 12th Sweet 16," Stanford head coach Tara VanDerveer said postgame. "I'm really happy to be able to say that. And I just want to compliment BYU on their team. They have just a great team and a really special player in Shaylee Gonzales. She, I think, we had all we could handle with her."
BYU's run in the tournament ended on the same night as fellow West Coast Conference team Gonzaga. Together, they gave the WCC a historic milestone of having at least two programs advance to the second round for the first time in league history.
However, before the season ended for the Cougars, they put the Cardinal to the test from outset and nearly mounted a significant comeback in the last minute of the game. Both teams came out the gate playing tenacious defense that limited overall offensive production. Coupled with a frenetic pace up and down the court, the field goal percentage of both Stanford and BYU suffered in the first quarter with the Cardinal shooting just 25 percent and BYU 35.3 percent.
Senior center Shannon Coffee came off the bench at 5:48 to give her team a much-needed offensive boost, scoring within seconds of her entry on the court to give the Cardinal a 9-6 lead with 5:07 left in the period. BYU battled back immediately and with a minute to go in the quarter, sophomore guard Paisley Johnson hit a jumper to give her team a 12-11 advantage. The next two shots also came from the Cougars who led 15-11 after the first quarter, capping a 7-0 run.
The Cardinal settled down a bit in the second quarter to overtake BYU outscoring the Cougars 20-14 in the period. After Johnson started the period for BYU with a trey, Stanford came alive to go on a 9-0 run that came with eight points from junior guard DiJonai Carrington and a free throw from sophomore forward Maya Dodson.
Carrington's points resulted from a jumper followed by back-to-back treys. Her second three-pointer gave the Cardinal a 20-18 lead. The game went back and forth with four ties with BYU's dynamic freshman guard Shaylee Gonzalez providing an offensive infusion to keep Stanford in the Cougar's line of fire. However, Stanford's Carrington hit a jumper with two seconds left on the clock before the break giving her team a 31-29 lead heading into the half.
Gonzalez led all scorers at the half with 15 while Carrington had 14 for Stanford.
Stanford dominated BYU in the third quarter, outscoring the Cougars 22-9 to give them a 15-point lead heading into the last quarter. The prolific third quarter was the result of a 16-0 run that began with a jump shot from Stanford freshman guard Lexie Hull. The quarter included a 10-point scoring onslaught from her teammate, senior forward Alanna Smith and a six-point effort from sophomore guard Kiana Williams.
With a 53-38 lead at the beginning of the fourth period, it seemed as if Stanford had the game on lockdown. However, the Cougars roared back in the last minute on a 9-0 run to cut their deficit to just nine points. After the ninth point, VanDerveer called a timeout
"We got careless with the ball," VanDerveer said about BYU's run. "They are an aggressive team, and they are going to make a run. I think that sometimes I think our team maybe felt that the game was over, and we just got sloppy. We only had eight turnovers for the game and we probably had four of them in that one-minute stretch…we just needed to take care of the ball a little bit better, so just tried to remind them of that."
The Cardinal regrouped to keep the Cougars at bay for an 11th-consecutive win and a prized ticket to the Chicago Regional.
"I am very proud of my team and I felt like they came out with a lot of fight and did the things we needed to do," BYU head coach Jeff Judkins said. "We just had one bad quarter and against a great team like Stanford you can't afford to do that. I am just really proud of them. We are young and this is something we have been working hard for. It's just a start for us and we will continue to get better. Stanford is a very good team, very seasoned and well coached. Someday that is where we are going to be. There is no doubt in my mind."
BYU's Gonzales led her team with a career-high 32 points, five rebounds, two steals and one assist. Johnson contributed 11 points, five rebounds, two assists and one steal.
Stanford finished with three players in double figures. Smith earned a double-double of 23 points and 14 rebounds. Carrington finished with 19 points plus five rebounds. Williams added 13 points, five assists and four rebounds.
Stanford will meet No. 11-seeded Missouri State in the Sweet 16 on Saturday in Chicago at 6:30 p.m. ET. The game will be televised on ESPN2. The Lady Bears upset No. 3 seed Iowa State Monday night to advance as a "Cinderella" team.
VanDerveer's reaction to playing Missouri State:
"You know, hope it's a late game at midnight, and Cinderella goes home."
She added, "we have played them before in a Florida tournament three years ago, so we'll dig that tape out and we'll really study up and be ready to go. We'll meet for a short amount of time tomorrow….You know, we'll be ready."
Notes
Stanford now leads the series vs. BYU, 3-2.
Stanford is 38-4 all-time in NCAA tournament games at Maples Pavilion.
The Cardinal have not lost a game of the first weekend of the tournament since 2017,
The win gave Stanford its 15th 30-win season.
Stanford is 27-0 this season when holding its opponent to under 70 points and 25-0 when limited them to less than 40.0 percent shooting.
It's the fourth-straight year the Pac-12 sends at least four teams to the Sweet 16.
Stats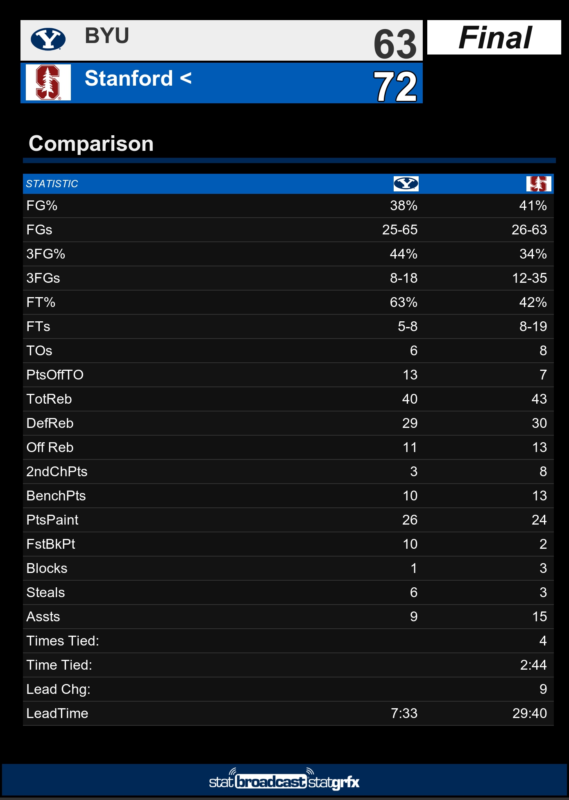 Social Media Recap
Lehhhgo! #ncaaw Rainy outside but fans are fired up in Maples Pavilion! @byuwbb vs. @StanfordWBB pic.twitter.com/UO0PwiAspP

— Hoopfeed.com ? (@hoopfeed) March 26, 2019
Tight, defense-laden game early between BYU and Stanford, it's INTENSE in here. Shannon Coffee checks in for Stanford at 5:48 and scores within secs. Cardinal lead 9-6 with 4:47 left in 1Q. #ncaaw #MarchMadness

— Hoopfeed.com ? (@hoopfeed) March 26, 2019
End of 1Q: BYU 15, Stanford 11 #ncaaw #MarchMadness BYU ends 1Q with a 7-0 run! Shaylee Gonzales and Paisley Johnson going to work.

— Hoopfeed.com ? (@hoopfeed) March 26, 2019
Paisley Johnson for threeeeeeee! And BYU increases their lead at the outset of 2Q, 18-11, 8:50 left in the period. #ncaaw #MarchMadness

— Hoopfeed.com ? (@hoopfeed) March 26, 2019
DiJonai Carrington for threeeeeeeeee X2! She scored 8 consecutive points and now Stanford leads 20-18, 6:48 in 2Q! #ncaaw #MarchMadness

— Hoopfeed.com ? (@hoopfeed) March 26, 2019
Stanford's DiJonai Carrington slips and falls hard under the basket, looked a little rattled but gets back up to make FTs, she misses both, game tied at 23 vs. BYU, 4:55 in 2Q. #ncaaw #MarchMadness

— Hoopfeed.com ? (@hoopfeed) March 26, 2019
.@BYUWBB's Shaylee Gonzalez is fearless, wow. 4 straight points and her team takes the lead again, 27-25 over Stanford, 2:32 in 2Q #ncaaw #MarchMadness Stanford actually recruited her.

— Hoopfeed.com ? (@hoopfeed) March 26, 2019
And just like that, the lead goes back to the Cardinal after a trey from DiJonai Carrington, 28-27 Stanford, about a minute to go in 2Q. #ncaaw #MarchMadness

— Hoopfeed.com ? (@hoopfeed) March 26, 2019
HALFTIME: Stanford 31, BYU 29
DiJonai Carrington caps off her incredible second quarter by hitting a stepback inside the right-wing arc. 14 pts for D, all in the 2nd.

— Kevin Danna (@kevo408) March 26, 2019
Halftime: Stanford 31, BYU 29 #ncaaw #MarchMadness pic.twitter.com/itcmtnUMHb

— Hoopfeed.com ? (@hoopfeed) March 26, 2019
TAKE NOTES: This is textbook teamwork! ?#ncaaW | @StanfordWBB pic.twitter.com/I0GsNT5Nxg

— NCAA Women's Basketball (@ncaawbb) March 26, 2019
6:31 Q3 | @Kiana__W with an NBA three as the shot clock expires and Stanford has its largest lead.

?: 40
?: 35
#GoStanford pic.twitter.com/wFO5kjcaYK

— Stanford Women's Basketball (@StanfordWBB) March 26, 2019
DiJonai Carrington moving like a smooooooth operator, reverse layup, gets fouled, makes FT, Stanford leads 45-35 at 2:44 in 3Q, first double-digit lead for the Cardinal. #ncaaw #MarchMadness

— Hoopfeed.com ? (@hoopfeed) March 26, 2019
End of 3Q: Stanford 53, BYU 38 #ncaaw #MarchMadness pic.twitter.com/7y8tpKHi3a

— Hoopfeed.com ? (@hoopfeed) March 26, 2019
Listen to Coach Tara Vanderveer heading into the fourth quarter. #ncaaW | @StanfordWBB pic.twitter.com/mVKlzO8PvJ

— NCAA Women's Basketball (@ncaawbb) March 26, 2019
Elite Company#ncaaW | @StanfordWBB pic.twitter.com/54oVhsmacF

— NCAA Women's Basketball (@ncaawbb) March 26, 2019
Relentless defense by BYU leads to Stanford turnovers, a 9-0 run in 52 seconds by the Cougars and Tara VanDerveer signals for a timeout. Stanford 68, BYU 59, 1:05 to go in 4Q #ncaaw #MarchMadness

— Hoopfeed.com ? (@hoopfeed) March 26, 2019
6.2 secs to go and Stanford empties the bench…. #ncaaw #MarchMadness

— Hoopfeed.com ? (@hoopfeed) March 26, 2019
Final: @StanfordWBB 72, BYU 63 #ncaaw #MarchMadness The Cardinal head to the Sweet 16 for the 12th consecutive year! Stanford now leads the series between BYU 3-2 pic.twitter.com/F54dWmI5h4

— Hoopfeed.com ? (@hoopfeed) March 26, 2019
Stanford coach Tara VanDerveer on meeting a "Cinderella" of the tournament, Missouri State, in the Sweet 16 in Chicago: "Hope it's a late game, at midnight and Cinderella goes home." #ncaaw #MarchMadness

— Hoopfeed.com ? (@hoopfeed) March 26, 2019