The 2019 Final Four field is set: Baylor, Oregon, Notre Dame, UConn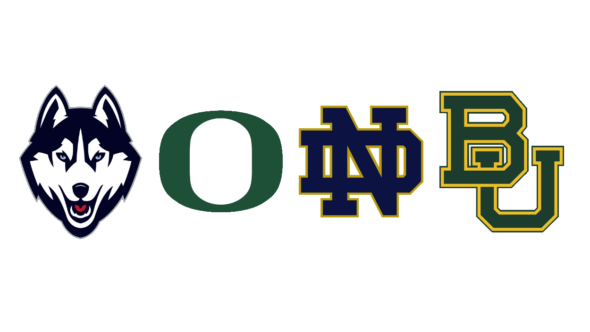 NCAA Interactive Bracket || TV Schedule
Four teams standing.
With the end of the Elite Eight Monday night, the Final Four field is set, and teams are in the midst of preparing for travel to the subtropical destination of Tampa. Action begins Friday night with the semifinals.
First up at 7 p.m. ET is the overall No. 1 seed Baylor taking on No. 2 seed Oregon. No. 1 seed Notre Dame versus No. 2 UConn is the last game of the night.
The national championship takes place Sunday at 6 p.m. ET and will be televised on ESPN.
Baylor (35-1) enters the Final Four with the best win-loss record among the four teams. The Lady Bears routed Iowa 85-53 in the Elite Eight to earn the program's fourth trip to the Final Four. This season marks the sixth time in program history that Baylor is a No. 1 seed in the NCAA tournament. The Lady Bears won the title in 2005 and 2012.
The Oregon Ducks (33-4) beat No. 1 seed Mississippi State 88-84 on Sunday to earn their first-ever Final Four appearance. The achievement comes after two seasons of missing the cut and falling in the Elite Eight. While the Ducks lost to Stanford in the Pac-12 tournament championship back in early March, they blazed through the competition in the NCAA tournament to reach the rarefied air of the Final Four.
With a sharp shooter like Arike Ogunbowale in their arsenal, it is no surprise that the reigning national champions, the Notre Dame Fighting Irish (34-3) make a return trip to the Final Four. After coming from behind to take down Pac-12-power Stanford 84-68 in the Elite Eight, the Irish earned their ninth trip to the Final Four. They are set to face longtime rival UConn in the semifinals.
As the record holders for the most national championships in NCAA Division I history, the UConn Huskies (35-2) advanced to their 12th straight Final Four and 19th overall. They defeated No. 1 Louisville 80-73 in the Elite Eight. The road was not easy for the Huskies as they held off an upset-minded No. 6 UCLA in the Sweet by just eight points, 69-61.
Keep checking Hoopfeed.com for more features and fun content as we travel to Tampa for the games and festivities!