Balanced scoring and defense help Nevada take down No. 2 team in Mountain West on the road, Wolf Pack beats SJSU 80-76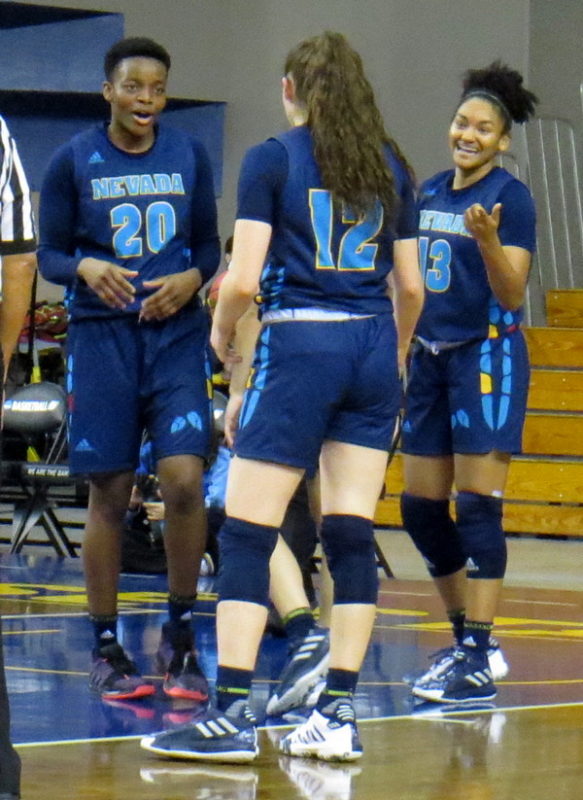 SAN JOSE, Calif. – Nevada (12-12, 5-8 Mountain West) earned its second consecutive road win Saturday afternoon toppling the No. 2 team in the Mountain West, San Jose State, 80-76. The road triumph, preceded by a victory at Air Force on Wednesday, gave the Wolf Pack back-to-back road wins for the first time since December 2017.
A balanced scoring effort coupled with relentless defense were major keys to Nevada's success against the Spartans. Every player who saw minutes for the Wolf Pack scored with the bench outperforming SJSU' reserves 33-9.
"I think for us, we're so balanced," Nevada head coach Amanda Levens said postgame. "We basically have nine starters."
Nevada learned from their last game against SJSU (15-8, 9-3) when the Spartans beat the Wolf Pack in overtime 72-70 back in early January in Reno.
"I think the reason they are so good is because they always have five players on the floor that can score," Levens said, "and at our place Raziya Potter really had a great game because we were really trying to focus on [Tyra] Whitehead and [Ayzhiana] Basallo so much."
Saturday, Nevada's defense managed, at some points, to shut down every single player on the floor for SJSU. This most noticeable moment came in the fourth quarter when the Spartans went scoreless from the field in the final 6:54 of the game. All of SJSU's points during that final stretch were free throws.
From the outset, Nevada seemed on a mission to ensure they left Silicon Valley with a victory. After an early 4-4 tie between the squads, the visitors outscored the home team 16-12 in a stretch that included a 6-0 run. Nevada went into the second quarter leading 20-16 as Wolf Pack junior guard Nia Alexander led all scorers with seven.
San Jose State fared much better in the second quarter after an initial offensive spurt by the visitors.  Following free throws from junior guard Megan Anderson, it was a tie game at 28 with 4:50 left in the period. Paced by sophomore guard Basallo and senior guard Fieme'a Hafoka, SJSU outscored Nevada 13-8 in the rest of the half. At the break, the Spartans led 41-36.
That five-point advantage disappeared in the third quarter. A re-grouped and defensive-minded Wolf Pack received scoring contributions from eight players in the third period and seven in the fourth. Overall, Nevada outscored SJSU 44-35 in the second half. Even as the Spartans fought to keep the game close, they never gained enough ground to sustain momentum and overtake their opponent.
Sophomore guard Essence Booker led Nevada with 14 points plus five assists while senior forward Marguerite Effa added 13 and seven rebounds. Alexander, a transfer from San Francisco, finished with 11 points and sophomore forward Imani Lacy scored 10 points and pulled down four rebounds.
In addition, the Wolf Pack tied its season-high of 20 assists, led by five from Booker and freshman Alyssa Jimenez.
SJSU's Basallo, the league's leading scorer, matched her average output with 20 points. Junior forward Whitehead, a transfer from Wake Forest, earned 17 points and seven rebounds. Hafoka added 12 points plus seven rebounds.
Nevada returns home to host in-state rival UNLV on Wednesday. San Jose State goes on the road for a big challenge, playing MW leader Fresno State (20-4, 13-0) on the same day.