Stanford survives Arizona 54-53, wins third national championship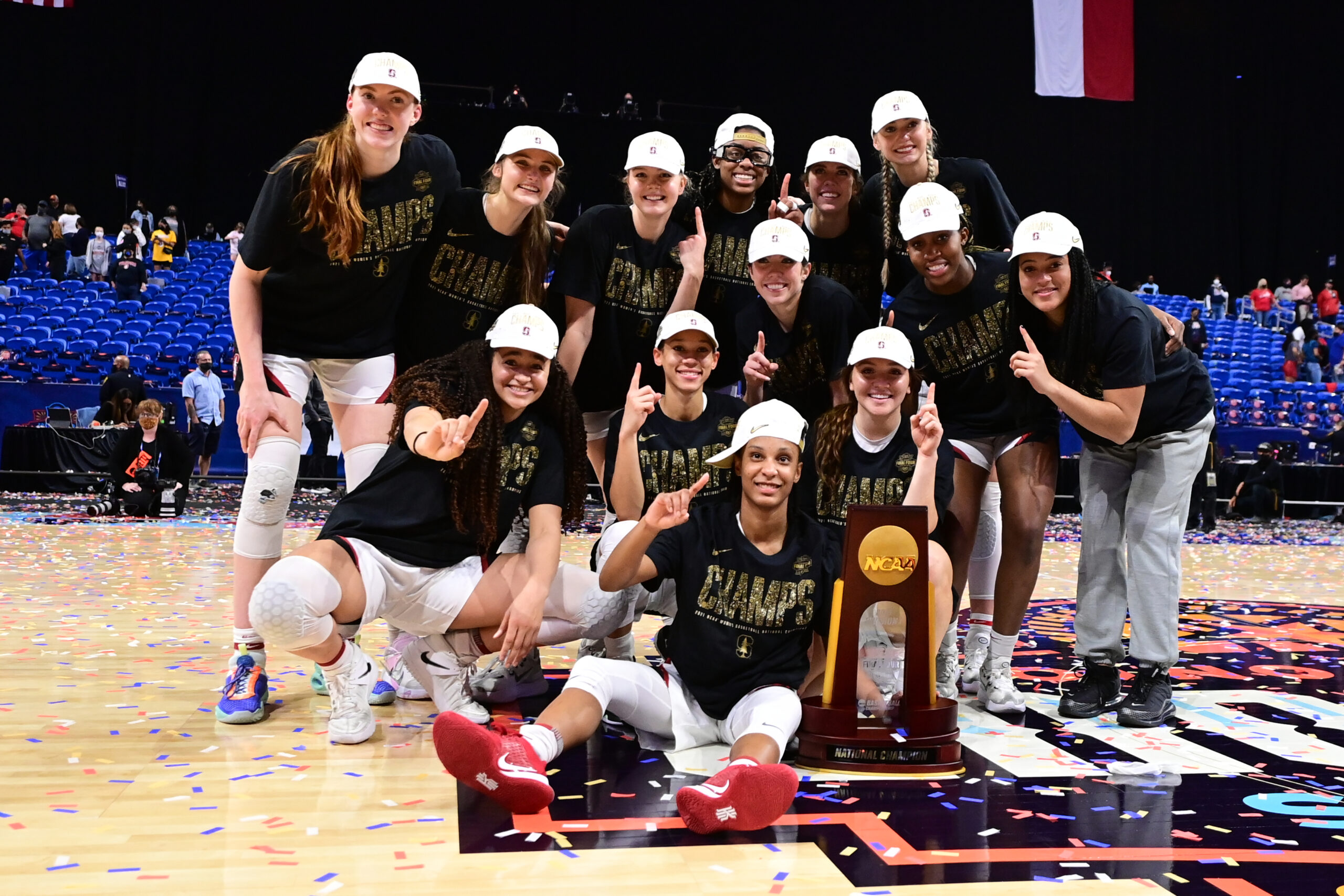 In the first-ever national championship matchup between Pac-12 teams, the overall top seed, Stanford prevailed 54-53 over an upset-minded third-seeded Arizona. The win marked the third championship for the Cardinal and head coach Tara VanDerveer in a season where she became the winningest coach in women's college basketball history. With a third title now under her belt, she has 1,125 career victories and Stanford is 95-31 (.754) all-time at the NCAA tournament.
"I really feel like we won this for all of the great players that have played at Stanford," VanDerveer said as she proceeded to list some of the program's greatest who were not fortunate enough to win a national championship.
It was a grueling journey to the title game as the Cardinal spent two months on the road during the regular season due to Covid-19 restrictions in their home county. And for the games they did play at home, fans were not allowed. However, in San Antonio, the team enjoyed a sizeable contingent of supporters at the Alamodome.
The contest was the third time that Arizona and Stanford met this season. The Cardinal won both matchups, the first by 27 points and the second by 14.
Sunday's game came down to the last seconds, just like their contest in the Final Four against South Carolina on Friday. Against the Gamecocks, Stanford prevailed because two South Carolina players missed shots in the final seconds. VanDerveer described those seconds as akin to having a root canal in a pre-game radio interview. When asked about what the last seconds against Arizona felt like, VanDerveer said: "I was back in that dentist's chair."
Against Arizona, Stanford's defense was crucial in keeping senior guard Aari McDonald, the Wildcats' leading scorer, from draining a buzzer-beating trey.
"I mean, it was painful," VanDerveer continued. "When we had the ball, we needed to hang on to it, at least get a shot up. At least we held onto the ball for a while. But that's the way basketball is. If you've got a faint heart or weak stomach, then don't coach."
Stanford came out of the gate in dominant fashion, winning the jump ball and getting a quick pull-up jumper from junior guard Lexie Hull. McDonald answered right away with a trey, yet Stanford dominated the rest of the quarter. With a balanced attack, five players scored for the Cardinal in the first ten minutes in an effort that included a 10-0 run. Arizona shot just 16% (3-19) from the floor compared to 44% by the -Cardinal (7-16).
Heading into the second period, Stanford enjoyed a 16-10 lead. However, they experienced an offensive drought and Arizona was able to get within one by halfway through the period.
Nearly five minutes before the half, Arizona guard Shaina Pellington stole the ball and finished with a fast-break layup to put her team in the lead 21-20. Stanford retaliated with an 11-3 run to go into halftime with a 31-24 lead. No player on either team had double-digit points at the break. Cardinal junior guard Lexie Hull led all scorers with eight points. McDonald has just five points and shot 2-11 from the floor.
In the third quarter, Stanford amassed a double-digit lead after a flurry of shots from three different players.
McDonald led the charge to get Arizona within three points by the end of the quarter with a combination of shots including three-pointers, layups, and free throws. She got help from Pellington who scored four points in the quarter.
As the fourth period commenced, it was a three-point game with Stanford holding a 43-40 advantage. Sophomore guard Haley Jones got things started for Stanford in the last quarter, giving her team a five-point lead, 45-40. Freshman forward Cameron Brink followed with a layup and Jones scored again with a turnaround jumper that put the Cardinal up by nine. And that's when things got dicey for Stanford as Arizona began to claw back. Pellington and McDonald went to work on the offensive end for the Wildcats and with 3:35 left in the game, Stanford was holding on by just one point, 51-50.
While Arizona did not manage to overtake the Cardinal, the lowed-seeded squad did get close. McDonald's free throws with just 36 seconds left in the game made it a one-point game. Stanford had possession after the free throws but wilted under Arizona's defense and committed a shot-clock turnover. After an Arizona 30-second timeout, the Wildcats inbounded the ball to McDonald who was immediately hounded by Stanford players. She still managed to get a shot off, but it clanged on the back of the basket and didn't go in.
Jones finished with 17 points and eight rebounds and was named the Final Four's Most Outstanding Player. She gave credit to her coach postgame and discussed what it meant to win another title for VanDerveer.
"This program is what it is because of Tara. The legacy she's created, just being able to be recruited by her, now be a part of the team, and then to take that a step further and win a national championship after the 29-year-long drought. It's just a blessing to be here right now. I don't think it's still honestly even hit me yet. Even standing with the confetti, I'm just still waiting for it to kick in."
Her teammates Brink and Hull also landed in double figures with 10 points each.
McDonald led all scorers with 22 points. Pellington added 15 points plus seven rebounds.
Arizona head coach and alumna Adia Barnes, who is just in her fifth year as a head coach expressed heartbreak about the loss but also commended her team since they were the underdog and not expected to even compete in the title game.
"This team is so special," Barnes said. "I am so proud. We fought. We weren't the best team in the tournament. No one thought we'd be here. We believed in each other. We didn't play a great game, but we battled. We played our hearts out. We came within one possession."
The All-Tournament Team
Haley Jones (Stanford), Most Outstanding Player
Aari McDonald (Arizona)
Lexie Hull (Stanford)
Zia Cooke (South Carolina)
Paige Bueckers (UConn)