A Cautionary Tale: Sheryl, Malcolm and Michael, or Keep Track of Your Valuables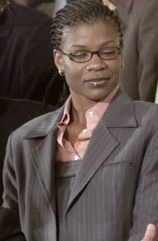 Swoopes during her visit
to the White House with the
Houston Comets, 2001.
It has happened to some of the most famous people in modern history, including Malcolm X and Michael Jackson. I remember the shock and heartfelt panic in my chest when news broke in the spring of 2002 that the contents of a random storage locker being auctioned off for unpaid rent contained a large cache of speeches, journals, and notes by Malcolm X.
My alarm stemmed from worrying that those precious artifacts of African American history might be lost without the care and cataloguing that could be provided by a museum or university archive.
Two years later, a similar incident happened when a priceless trove of Michael Jackson memorabilia was sold including items from the making of the groundbreaking Thriller album to home movies of The Jackson Five that had never been seen by the public.
Now it seems that some valuable pieces of women's basketball history may be in jeopardy of being auctioned off willy-nilly because of unpaid storage fees.
Martin Jordan, a retired oil field worker, bought items from a storage unit in Lubbock, Texas, on May 22. Little did he know of the treasures it contained.
Imagine his surprise when he realized that he was in possession of the personal effects of someone who was not only a subject of Texas lore but who was also an internationally recognized athlete.
"It blows my mind," said Jordan to the The Lubbock Avalanche-Journal. "I'm flabbergasted."
Jordan plans to sell most of the items on eBay.
The newspaper broke the story on Tuesday and word of the discovery has many women's basketball fans shaking their heads and questioning how something like this could happen, especially given the millions of dollars in career earnings that Swoopes has made even if she did have to file for bankruptcy a few years ago.
Considered one of the best players in women's basketball history, Swoopes led the nearby Texas Tech Lady Raiders to the national championship in 1993 and was key in helping the now-defunct WNBA Houston Comets earn four  titles.
The three-time Olympic gold medalist knew she had a storage unit in Lubbock according to her agent Kim Blackwell. It was rented during her previous marriage to Eric Jackson. But she did not know that the contents had been sold, said Blackwell in a statement to the Avalanche-Journal.
"Of the items mentioned, Ms. Swoopes regrets learning that the contents included letters from fans," the statement reads. "Ms. Swoopes hopes that the monies, derived from sales on E-Bay, will be put to use in servicing the goodwill and interests of the Lubbock community."
Jordan, who now makes a living reselling goods at flea markets, plans to sell most of the items online. And I'm sure the paradox of her son having the same name as the random owner and future seller of pieces of her history is not lost on her.
Items in the storage unit include: (Photo gallery of items, The Lubbock Avalanche-Journal)
A 1996 U.S. Olympic team towel
1993 Kodak Women's All-American trophy
A blue sequin formal dress
Four BMW tires
Basketballs
Basketball uniforms
A jersey that says #23, Michael Jordan
Wedding gifts
U.S. Olympic team towel
Correspondence about contracts and endorsements
A box of Nike "Air Swoopes"
Graduation cards from friends and family
Swoopes' diploma from Texas Tech
The lesson from all of this is painfully obvious. If luck is on Swoopes' side she may be able to stop the sale of the items like the family of Malcolm X did after the icon's belongings were found. They were turned over the Schomburg Center for Research in Black Culture in New York City on a street bearing his name. Michael Jackson, on the other hand, was not so lucky. An unnamed European bidder bought the majority of the found collection.
As a graduate of Smith College, I spent many hours as an undergraduate doing research at the world renowned Sophia Smith Collection.
It houses archives of women's history and is in the same building where the very first women's basketball game was played in 1892.
It is a hallowed place where prized documents are preserved and displayed in a temperature-controlled environment. They are treated like luxurious jewels.
I hope that Texas Tech or some other institution will take the opportunity to buy the collection so they will not only own a piece of women's basketball history but archive and display its items in a proper setting.
So to Smith College, I'll be contacting you soon to let you know that these items are for sale and to say that I think they would be a great asset to the school's already rich collection.
And to women's basketball athletes, do this research nerd a big favor—no, make that two favors:
1) Be active in writing your own history by never losing track of artifacts of your career.
2) Contact your alma mater or another institution now to get help in learning how to start preserving your legacy. Archives specialize in the preservation of fragile items like paper and can tell you how to best take care of them.
This whole episode brings to mind a blog post respected sports writer Mechelle Voepel wrote the other day about women's sports needing more storytelling. Well, for me, a part of building that canon of storytelling is preserving the sport's history.
As the WNBA regular season kicks off in just a week and a half, I think of the league's 2009 slogan "Expect Great." Of course I expect great but more than that, what I really hope for is that generations from now, we will be able to actually "Remember Great" because we have all played a part, whether as a player or a storytelling fan, in preserving the legacy of the sport we love.
P.S. Mr. Jordan, you could at least give Swoopes her college diploma.