Jennifer "Grandmama" Gillom is the new head coach of the Minnesota Lynx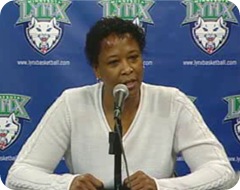 Basketball legend, Jennifer Gillom, is the new head coach of the Minnesota Lynx. Affectionately known around the league as "Grandmama", Gillom was one of the first players signed by the WNBA in 1997.
Former Lynx coach, Don Zierden, resigned. He is the new assistant coach of the Washington Wizards under Flip Saunders. Even though he was hired by the Wizards in early April, he did not announce his resignation until yesterday, four days before the Lynx's first game.
"Wow, this is a blessing," said Gillom, her first words at the team's press conference today announcing her hiring. She went on to praise Zierden for his confidence in her coaching abilities.
"I just want to thank him tremendously for just taking a chance on me, for hiring me my first season here," said Gillom. "He has taught me. He has prepared me. He has believed in me and I am so grateful for that."
This is not her first time working for the Lynx. Last season she was an assistant coach and worked closely with the post players.
Gillom competed for seven seasons in the WNBA, six with the Phoenix Mercury. She led the Mercury to three playoff berths (1997, 1998 and 2000). She won the Kim Perrot Sportsmanship award in her final season.
She played her final season with the Los Angeles Sparks. She retired from the WNBA with career averages of 13.4 points and 4.5 rebounds per game.
A Mississippi native, Gillom and her sister Peggie both played under former Houston Comets and current LSU coach Van Chancellor at Ole Miss. She helped the United States Basketball Team to a gold medal in women's basketball in the 1988 Summer Olympics.
Previously, she was the head coach of the Xavier College Preparatory High School basketball team in Phoenix, Arizona.
While Lynx assistant coach Jim Petersen will stay with the team, Ed Prohofsky is leaving.
The Lynx will hire a new assistant this week, before their season opener on Saturday against the Chicago Sky.