My name is Cappie Pondexter and my Social Security number is…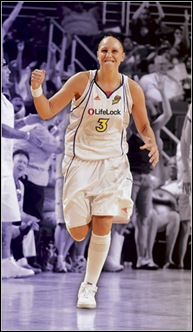 As previously reported (and fans have figured out), the WNBA sealed a deal with LifeLock to have logos on league jerseys.
LifeLock's CEO Todd Davis gives out his social security number in the company's well-known ads touting the strength of the firm's products.
The Tempe, Arizona based identity theft protection company, inked a three-year agreement with the WNBA worth at least $1 million. This season the LifeLock logo replaces the Phoenix Mercury's moniker on the front of team jerseys.
Other terms of the deal:
–LifeLock in-arena signage and branding on the court
–WNBA season ticket holders will be offered a complimentary LifeLock membership (valued at $110 each)
More coverage of the deal:
Image: WNBA