College coaches hit the road for July recruiting, Big State Flava Jam a big draw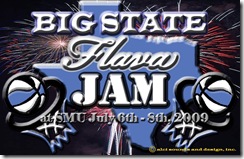 The July recruiting season is in full swing. After an Independence Day weekend break, college coaching staffs hit the road for a month long session of heavy-duty recruiting.
For nationally ranked players, last week's Nike Skills Camp in Oregon gave them the opportunity to learn from elite coaches and college players before they begin showcasing their skills this month.
Early Monday morning, gyms across the country began hosting scores of players, coaches and parents. At the Big State Flava Jam in Dallas, players have the chance to get looks from Prairie View A&M's Cynthia Cooper, Texas' Gail Goestenkors and many more including coaches from Tennessee, UTEP, Dillard, Memphis and Xavier.
The NCAA certified tournament is sponsored by DFW Elite Basketball, a competitive girls basketball organization of club teams with alums such as Odyssey Sims, Brittany Raven, Brooklyn Pope, Taylor Booze, Takia Starks. Brittney Griner has also played for DFW Elite.
Six games on six courts on the campus of Southern Methodist University tipped off at 8:30 a.m.  The games run into the early evening. As Texas is a mother lode of top-notch girl's basketball talent, it is almost guaranteed that the 2010-2011 season will have a few stars from the phenoms playing today and tomorrow.