Despite the economy, All-Star weekend had plenty to offer players and fans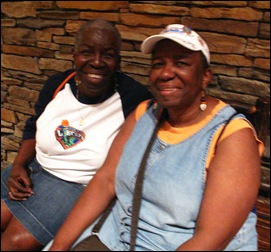 Die-hard Liberty fans Joan Valentine and Janice Battle at Mohegan Sun 
The economy may have put a dent in the amount of events planned by the WNBA for All-Star weekend but there was still a lot going on in the days leading up the marquee event at Mohegan Sun Casino and Resort, the home of the Connecticut Sun. The location alone made up for a lack of planned activities. Mohegan Sun is a frenzied hybrid playground for gamblers, shoppers, concert-goers, foodies and sports fans.
Players, league staff and reporters began trickling into Connecticut Thursday afternoon. The league started filming spots for playoff commercials that evening with Swin Cash, Diana Taurasi and Cappie Pondexter. Taurasi was one of the last players to arrive and taping lasted until after 9 p.m.
Friday morning, several players were up at the crack of dawn getting ready for a community service appearance 20 miles down the road in Willimantic, Conn. Former Stanford and WNBA star Jennifer Azzi hosted a ceremony to unveil a refurbished basketball court. Asjha Jones, Charde Houston, Katie Douglas, Tamika Catchings and Cappie Pondexter participated in the ceremony and ran drills during a clinic for kids.
Just a few hours later, all of the All-Stars were at Mohegan Sun Arena for the open practices. Fans filled up one side of the lower section of the facility to watch the teams in a low-key comedic practice with both head coaches mic'd. Lin Dunn had plenty of jokes and Dan Hughes had the players practice some rather interesting plays to prepare to confuse the East.
Players also took time to sign autographs and interact with loyal fans. Diana Taurasi endured an onslaught of media when she appeared on the court to mingle with the press. Before she arrived, reporters were spread out around among the players until all of sudden they formed like a swarm of bees and started bombarding the Phoenix Mercury guard with questions regarding her recent DUI-related charges in Arizona. Taurasi deserves kudos for not losing her cool and responding to the ambush, question after similar question, with honesty and patience. There were several other players on the floor during that time that were also worthy attention but the pack left them to talk amongst themselves or scowl in the direction of the horde.
League president Donna Orender hosted a reception for the players Friday evening. Afterwards, many headed to bed and others went gambling in the casino. While many of the fans who will attend the All-Star game are undoubtedly from the surrounding area, some took planes and trains from further distances to get to New England. And really, what is the All-Star game all about? Lest we forget, it is the fans.
I saw three Sacramento Monarchs fans in the Dallas-Fort Worth airport early Thursday morning on a flight to Hartford's Bradley International, the closet major airport to Mohegan. There were Sun fans in Willimantic early Friday morning watching the ceremony and clinic from the bleachers. And in the casino, here are there, you could catch glimpses of fans wandering around in their WNBA and team gear.
Liberty season ticket holders make the trek to Mohegan for the 2009 WNBA All-Star game
Joan Valentine and Janice Battle are die-hard New York Liberty fans. They have been season ticket holders for twelve years. Friday evening they were wandering the "turtle trail" near the Casino of the Sky at Mohegan after the open practice. Joan sported a visor with player autographs and carried a WNBA purse. Janice wore a Liberty jersey and an autographed WNBA backpack.
The two, who share the same birthday a year apart, definitely know their team. They were quick to show appreciation for the Liberty players but were not shy about critiquing the team's performance and management. The team is 6-9 mid-season, sitting near the bottom of the Eastern Conference. They lost their last game to the team with the worst record in the league, the Sacramento Monarchs.
"We've got new legs this year," said Valentine. "We need new management."
Valentine's favorite player is Essence Carson. "She came, got right in the mix of things and started hustling."
Battle's favorite is Cathrine Kraayeveld: "I think she hustles. She follows through and is a go-to person." She also likes Ashley Battle: "She works very hard when she gets her minutes."
When it comes to their all-time favorite players, Valentine sticks with a Liberty legend.
"I'd have to say T-Spoon," she said referring to former Liberty point guard Teresa Weatherspoon who is currently the head coach at Louisiana Tech.
Battle's all-time favorite? "Sheryl Swoopes. She is the ultimate."
While Valentine and Battle are excited for this year's game, this is not their first trip to All-Star weekend. They also attended in 2007 when it was held in Washington, D.C. at the Verizon Center. There was no game last year due to player participation and preparation for the 2008 Summer Olympics.
This year at Valentine and Battle will be cheering on their Liberty contingent of one, forward Shameka Christon, from Section 79, Row H.