Nicole Powell to replace injured Lisa Leslie in WNBA All-Star Game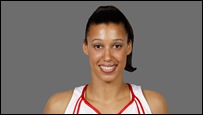 Sacramento Monarch Nicole Powell will play in her first All-Star Game as a replacement player for injured Los Angeles center Lisa Leslie.
Powell, a sixth-year forward, was the third overall pick in the 2004 WNBA Draft and winner of the league's Most Improved Player award in 2005 when Sacramento won the WNBA title. She currently leads the Monarchs in scoring, averaging a personal career-best 15.1 points per game, and ranks second on the club in rebounds (5.1).
Leslie has been sidelined since suffering a knee injury against the Phoenix Mercury in the fifth game of the season.
The league's ninth All-Star Game will be held on Saturday, July 25 at Mohegan Sun Arena in Uncasville, Conn. and will be televised nationally on ABC at 3:30 p.m. ET.
Related stories: