Phoenix Mercury's DeWanna Bonner named WNBA Rookie of the Month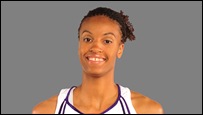 DeWanna Bonner of the Phoenix Mercury was named the WNBA's adidas Rookie of the Month for games in June. She appeared in all 10 games for the Mercury to start the 2009 season and led all rookies in rebounding (6.1 rpg). The 6'4" guard was second among rookies who played at least six games in scoring (11.5 ppg).
In her WNBA debut, Bonner posted a double-double with 16 points and 11 rebounds in a 90-79 Mercury win against the defending Western Conference champion San Antonio Silver Stars. Bonner's season-high 21 points came in a 104-80 win over the Minnesota Lynx, during which she also collected 10 rebounds.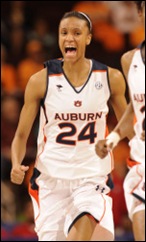 Bonner, the 2009 SEC Player of the Year, was the fifth overall pick in the 2009 WNBA Draft following an outstanding career at Auburn University under former Indiana Fever coach Nell Fortner.
Bonner currently leads all rookies and is tied for second in the league in double-doubles with three.
The Phoenix Mercury currently hold the best record (10-4) in the Western Conference.
Highlights of Bonner's outstanding month:
• June 6 vs. San Antonio: 16 points on 7-of-14 shooting and a career-best 11 rebounds in a 90-79 victory
• June 8 vs. New York: Career-high 28 minutes and 13 points in a 91-84 victory
• June 17 vs. Minnesota: Career-best 21 points and 10 rebounds in a 104-80 win
• June 27 vs. Minnesota: 19 points; including 7-7 on free throws in a 109-80 loss