Some good news for Phoenix: Penny Taylor is back and Temeka Johnson wins service award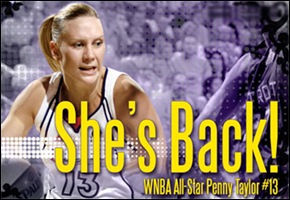 Ending days of anticipation from fans and the media, the Phoenix Mercury announced the re-signing of Penny Taylor today complete with a new splash page for its Web site (pictured right). The Australian forward arrived at a perfect time for a team that has seen its fair share of negative publicity this month after star player Diana Taurasi was charged with three DUI-related offenses this week. Taylor's contract is for the rest of the season.
"We're extremely excited to bring back such a world-class player in Penny, who we know can contribute down the stretch to contend for another championship," said Mercury general manager Ann Meyers Drysdale. "Penny is a versatile player who not only has the ability to be effective at multiple positions, but also understands our system offensively and defensively. We become an even better team with her on our roster."
Originally selected 11th overall by the Cleveland Rockers in the first round of the 2001 WNBA Draft, Taylor joined the Mercury as the number one overall pick in the 2004 Dispersal Draft.
She was a major contributor to the Mercury's championship success in 2007, posting a career-high 17.8 points, career-best 6.3 rebounds and 2.9 assists in 29.7 minutes per game. She led the highest-scoring team in league history in field goal percentage, shooting 49.9 percent from the floor.
After the 2007 season, the Melbourne, Australia native made the decision to forego the 2008 WNBA season to train with the Australian National Team in preparation for the 2008 Olympics in Beijing, China. She led the Opals to a 7-1 record and an appearance in the championship game against the U.S. Women's Olympic Basketball Team featuring Mercury teammates Taurasi and Pondexter.
"It's great to have Penny back. She's proven that she can be a dominating presence in our system," said Mercury head coach Corey Gaines. "She's an undeniable scoring threat and defensively makes our team better in the post."
Temeka Johnson wins Community Assist Award
In other Mercury news, guard Temeka Johnson is the recipient of the WNBA's Community Assist Award for June. Johnson plays a leadership role in the team's community outreach initiatives, including the Mercury's Adopt-A-Team program, and supports youth development, health, and wellness year round through her foundation, Meek's H.O.P.E. (Heaven Opens People's Eyes).
"I love to inspire youngsters and show them that with hard work and dedication, they can achieve anything in life," Johnson said. "It feels great to have my work in the community recognized and I really hope that this award encourages others to lend a helping hand where they can."
Off the court, Johnson spends time helping youth, families, and communities reach their goals through Meek's H.O.P.E. Johnson launched her foundation last summer to provide assistance to underserved young people and families across the country with a special focus on self-esteem, physical activity, and the community.
Through Meek's H.O.P.E., Johnson adopted a school in her home state of Louisiana to which she lends financial and hands-on support, established the Jewel Johnson Teacher Scholarship (in honor of her grandmother, a teacher) to assist aspiring educators, and was the first female athlete to join the United Negro College Fund's efforts to help young people gain access to college. Johnson now serves as one of the program's Athlete Ambassadors for Education. The WNBA is donating $5,000 to Meek's H.O.P.E on her behalf.