Monarchs Show Swagger In Road Victory Over Silver Stars
Photo by Carmen Santiago.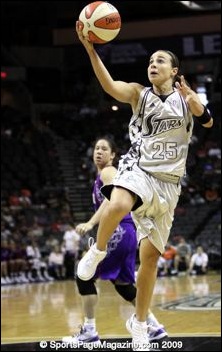 SAN ANTONIO – The San Antonio Silver Stars continued a season pattern of inconsistent play Tuesday night with a home loss to the Sacramento Monarchs, the team with the worst record in the league.
After five consecutive losses in San Antonio, the Monarchs won at the AT&T Center for the first time since August 3, 2006 and handed the Silver Stars their worst home loss in three years before a crowd of 4,961 to win the season series 2-1.
"This is exactly the way we need to play if we want to win," said Monarchs center Rebekkah Brunson, who led her team with a game-high 19 points. "We have had a lot of injuries and a lot of lapses, but if we can kind of grasp this momentum there's no telling what will happen for us for the rest of the season, but we need to take this into next season and know we need to play like this all the time."
The Silver Stars led for most of the first half ending the first quarter with a 27-24 lead. However, the Monarchs stepped up their defense in the second quarter. They pulled ahead for only the second time in the first half with only 35 seconds to play before the break.
San Antonio failed to regain the lead for the remainder of the game as the Monarchs began the third quarter on a 7-0 run and with defense that kept the Silver Stars on their heels struggling to make baskets.
"I think we missed some shots," said Silver Stars head coach Dan Hughes of his team's scoring woes, "but I also thought that their defense has a way of wearing you down."
San Antonio made a frantic effort in the fourth quarter to come back from behind with a series of 3-point attempts in a flailing offense.
Silver Stars veteran Vickie Johnson tried to slow her team down so they could regain their composure with calming gestures and verbal appeals but it was not enough as the Sacramento players began to show a bit of a swagger, obviously confident of winning the game.
"We haven't had that swagger," said Sacramento head coach John Whisenant. "That's very important for teams to have, not be cocky, but be confident."
Brunson echoed Whisenant.
"We have a lot of pride in our locker room. We are not going to quit and we are not going to give up. We could be 0-16 right now and we're still going to play just as hard — but we need to play hard day in and day out."
Sacramento held the league's leading scorer, Becky Hammon (pictured right), to 11 points. The day before, Hammon was named the WNBA Western Conference Player of the Week for the second week in a row. San Antonio's second leading scorer Sophia Young had 14. The Monarchs focused their efforts on those two players.
"Becky Hammon and Sophia Young ate us alive in Sacramento so we just focused on containing those two," said Whisenant. "We were lucky tonight."
The last time the two teams matched up, Sacramento won in overtime despite a career-high 38 points from Hammon and a career-high 29 points from Sophia Young.
Young's explanation for her team's loss Tuesday spoke to the parity of the league this summer.
"Like we've been saying this season, no game is going to be easy," said Young. "It's going to be a tough game every night, even to the teams that you think are in the bottom of the league. This Sacramento team played very good tonight and we didn't match their intensity."
Hughes made no excuses for the Silver Stars and was quick to compliment Sacramento on playing a better game.
"I thought they executed well. They had a few days off and they looked like a team that was ready to play."
The Silver Stars are now 10-12, fourth in the West, while Sacramento remains at the bottom with a 6-17 record. San Antonio travels to Phoenix to play the first of back-to-back games against the Phoenix Mercury on Thursday. Tip-off is slated for 9pm CT at the US Airways Center.
Sacramento's next game is in Los Angeles Friday night in their first of back-to-back games against the Sparks, who also lost on Tuesday night to the New York Liberty. Tip-off will be at 7pm PT at the Staples Center.
This story originally published on SportsPageMagazine.com.