San Antonio Sets Franchise Records In Decisive Rout Of Phoenix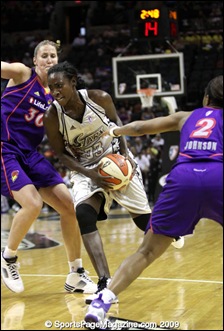 SAN ANTONIO – It was a night for the record books in San Antonio, as the Silver Stars set a franchise high for points in a game with a 106-89 home win over the Western Conference-leading Phoenix Mercury.
Before a Saturday-evening crowd of 8,933 at the AT&T Center, San Antonio also broke records for first-half points, first-half assists and first half-made field goals.
For Silver Stars forward Sophia Young, the night's leading scorer, it was payback time. Her team was coming off of a 95-83 road loss to Phoenix just two nights earlier in the first of a back-to-back series.
"We came out with an aggressive mentality because of the last game in Phoenix," said Young. "So we were kind of like 'we owe them.'"
"Well you know they shot well … they just took care of business and played well," Phoenix head coach Corey Gaines said about San Antonio.
"You know we may end up seeing San Antonio in the first round," he continued, referring to the WNBA playoffs. "You never know. I'm not worried about our placement, we will still hold down the number-one spot, but it will be a dog fight for the rest of the conference with Minnesota, LA, and San Antonio."
San Antonio looked like the reigning Western Conference champions for an entire game for the first time this season as they maintained an offensive and defensive intensity in all four quarters.
There were no lead changes and just one tie early in the first quarter.
Even though Phoenix's Diana Taurasi led all scorers in the first quarter with 11 points, the Silvers Stars finished with a 10-point lead and scoring contributions from six different players.
By the end of the first quarter, the Silver Stars had set their first scoring record of the night with 30 points.
Phoenix struggled to keep possession of the ball and ended the quarter with six turnovers while San Antonio had zero.
Scrambling for every single loose ball and rebound, the Silver Stars led by as many as 23 points in the second quarter before ending the half ahead 61-42.
While Phoenix did show an increased level of focus and energy to start the second half, they were not able to come closer than 12 points to San Antonio.
"The plan was to come out in the second half and get back in this game," said forward Cappie Pondexter, "but we started to put them on the free-throw line a lot, which didn't allow us to get out and run. It slowed the game down and took us out of our rhythm because we are a running team."
San Antonio hit 15-for-16 from the free-throw line in the third quarter. Phoenix started the fourth quarter 19 points behind San Antonio.
Silver Stars head coach Dan Hughes played his bench for most of the final quarter. San Antonio's backups outscored (39-29) and outrebounded (16-14) the Mercury's with two players in double-digits and Megan Frazee's career-high tie of nine rebounds.
Hughes praised the "fine play off the bench."
"I thought that Erin [Perperoglou] gave us the type of energy we need," Hughes said. "I thought that Megan [Frazee] was very, very aggressive on the glass. Good guard play from Helen [Darling] and Edwige [Lawson-Wade] as well at the point. Just a good all-around game for us."
During the course of the season, the Phoenix bench has been more productive but Penny Taylor and DeWanna Bonner were both held to single digits.
"We usually have six players in double-figures," Gaines said, "but that wasn't the case tonight and that definitely didn't help our cause."
Taurasi led Phoenix with 21 points. Pondexter had 20, plus four assists.
The Silver Stars are now 11-13, tied for third in the West with the Minnesota Lynx while Phoenix remains the conference leader at 17-8. The two teams will not meet again in the regular season, ending their four-game series in a split with each team winning on its home floor.
The Mercury need to win just six more games in order to secure a berth in the playoffs and set a record for franchise wins in a season.
The Silver Stars visit Atlanta on Thursday. Tip-off is slated for 7:30 pm ET at Philips Arena.
The Mercury head to Pondexter's hometown of Chicago where they will face the Sky (12-13) Tuesday at 8pm ET at the UIC Pavilion.
This story originally published on SportsPageMagazine.com.