Sparks Win in San Antonio For the First Time Since 2006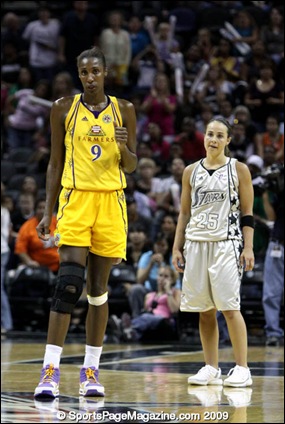 SAN ANTONIO – The Los Angeles Sparks ended a three-year drought in San Antonio Friday night with a 67-66 overtime win over the Silver Stars before a crowd of 9,540. The Sparks' previous victory at the AT&T center took place on July 26, 2006. The win gave the Sparks their fourth straight victory and solidified their third-place standing in the Western Conference, behind leader Phoenix and runner-up Seattle.
But veteran center Lisa Leslie was not satisfied with her team's performance.
"We won, but it was definitely not our best basketball game," Leslie said. She finished with 14 points and eight rebounds.
Leslie's disappointment with her team erupted in a post-game locker room tirade in which she held everyone, including herself, accountable for 17 turnovers and defensive lapses in the third quarter which allowed San Antonio to tie and then lead twice after an entire first half during which the Sparks held the advantage.
Los Angeles was unstoppable during the first quarter, beginning the game on a 10-0 run. San Antonio never came closer than six in that quarter and it ended with a score of 20-14.
For the Silver Stars, sub-par 20 percent field goal shooting was offset by their 50 percent 3-point percentage and a 6-for-6 effort from the free-throw line.
During the second quarter, the Silver Stars improved to 35.7 percent from the field while the Sparks could only muster 3 of 13. Becky Hammon led the drive and San Antonio got within two points of the Sparks, but by halftime they were still behind by six and the Sparks led 33-27.
Ann Wauters, who went to the locker room in the first half after a being injured during a foul against DeLisha Milton-Jones, came back in the second energized and scored six-straight points. But Sophia Young was the main catalyst, leading a charge with 15 points in the third, an effort that propelled the Silver Stars to lead for the first time with only 2:30 to go before the end of the period. Young finished the game with a career-high 31 points, including her 2,000th career point, and a team-high 12 rebounds.
The Sparks breakdown on defense in the second half was a cause for concern for head coach Michael Cooper.
"We had some defensive lapses in the third as I thought we didn't do well guarding Becky and Sophia," Cooper said. "Those are some great players and they are going to find a way to score, but we just hung in there and gave ourselves a chance to win on the road."
Despite the loss, Silver Stars head coach Dan Hughes praised his team's intensity to come from behind and send the game into overtime.
"I was real proud of the way we defended," Hughes said. "I was real proud of the way we fought back, playing on a back-to-back. Came up a little short in the end, but can't fault our effort."
There were two lead changes in the second half and four ties. The game went into overtime when Leslie missed a turnaround jumper at the buzzer, nixing the Sparks' chance to break the tie and win in regulation.
The five minute overtime was all Los Angeles. The Silver Stars were clearly more fatigued than the Sparks and never led.
"In the end there, points were hard to come by," Hughes said. "I thought both teams were physically tired."
Hammon concurred. "We came out really strong in the second half and had a great run," Hammon said, "but sometimes you just exert so much energy trying to get back into a game you just don't have enough energy to finish it off."
Hammon added 14 points for San Antonio, the only other player on her team with double-digit points.
The Silver Stars fall to 0-3 in overtime games this season.
Sparks reserve guard Noelle Quinn scored all of Los Angeles' points in overtime. Cooper complimented Quinn's off-the-bench production.
"Noelle's always been a pleasant surprise for us," Cooper said. "We knew what she could do, that's why we did the trade for her. We were able to put her in a position where she could do some positive things for us."
Quinn's 10 points were Los Angeles' only points off the bench.
Candace Parker led the Sparks with 17 points and 12 rebounds for her ninth double-double of the season. Tina Thompson also had a double-double with 14 points and 12 rebounds.
Former Connecticut Sun player Barbara Turner was at the game. She was waived on June 28.
Los Angeles travels to Georgia to face the Atlanta Dream on Sunday at 3pm at Philips Arena. San Antonio heads to the Detroit for a game later the same day against the Shock at 6pm at the Palace of Auburn Hills.
This story originally published on SportsPageMagazine.com. Photo by Carmen Santiago.