2009 WNBA Conference Finals set after Phoenix defeats San Antonio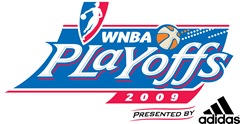 After the Phoenix Mercury defeated the San Antonio Silver Stars Monday night, the schedule for the 2009 WNBA Conference Finals was finalized.
In a series that lasted the maximum three games, Phoenix led by guard Diana Taurasi defeated San Antonio before a crowd of 6,896 at US Airways Center. Taurasi finished with 30 points, five rebounds and six assists. Tangela Smith added 16 points, eight rebounds and Cappie Pondexter finished with 17.
Becky Hammon led the Silver Stars with 29 points. League veteran Vickie Johnson, playing her last season in the WNBA after a 13-year career, had 24. It was her ninth playoff appearance.
In the other half of the Western Conference semifinals bracket, the Los Angeles Sparks defeated the Seattle Storm 75-64 Sunday night in the deciding third game of their series.
In the east, the Indiana Fever beat the Washington Mystics 81-74 Saturday night and swept their Eastern Conference semifinal series 2-0.
The Detroit Shock also completed a semifinals sweep with a 94-79 victory over the Atlanta Dream on Friday night. The Shock advanced to the WNBA's Eastern Conference finals for the fourth straight year.
The 2009 WNBA Conference Finals schedule:
Eastern Conference: Indiana vs. Detroit
Game 1 Wed Sept. 23, Indiana at Detroit, 8:00PM ESPN2
Game 2 Fri Sept. 25, Detroit at Indiana, 7:00PM NBATV
Game 3* Sat Sept. 26, Detroit at Indiana, 7:00PM NBATV
Western Conference: Phoenix vs. Los Angeles
Game 1 Wed Sept. 23, Phoenix at Los Angeles, 10:00PM ESPN2
Game 2 Fri Sept. 25, Los Angeles at Phoenix, 10:00PM NBATV
Game 3 * Sat Sept. 26, Los Angeles at Phoenix, 10:00PM NBATV
Finals schedule:
Game 1 Tuesday, September 29 (7:30 PM)
Game 2 Thursday, October 1 (7:30 PM)
Game 3 Sunday, October 4 (3:30 PM)
Game 4* Wednesday, October 7 (7:30 PM)
Game 5* Friday, October 9 (7:30 PM)
All times Eastern
* = if necessary