Angel McCoughtry expected to be named Rookie of the Year, Meadors to get coach award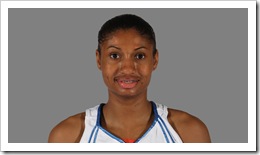 Former Louisville star Angel McCoughtry will be named  2009 WNBA Rookie of the Year and her Atlanta Dream coach Marynell Meadors, Coach of the Year, according to the Atlanta Journal-Constitution.
The WNBA will announce the winners of the award Thursday in Phoenix before Game 2 of the WNBA Finals.
McCoughtry started the year off on a rocky note but improved dramatically as the season progressed. She even considered quitting she told the newspaper.
"The best thing about this year is that I struggled at the beginning of the year," McCoughtry said Wednesday to the AJC. "I was down on myself. Then I just thought, if I wasn't talented I wouldn't be here. I can play. When I did that I started to play my game."
McCoughtry was drafted by the Dream with the first overall pick in the 2009 WNBA draft. Last week she was named to the All-Rookie team and the All-Defensive second team. She led Louisville to the championship game and the first Final Four in program history as a senior. She is Louisville's all-time leading scorer and rebounder with 2,779 points and 1,261 rebounds.
She is currently in training camp with USA Basketball in Washington, D.C..
In her second season at the helm of the Dream, Meadors took the team from a 4-30 record as an expansion team in 2008 to a playoff berth (18-16) in 2009. The Detroit Shock swept the Dream 2-0 in the first round of the playoffs. Prior to joining the Dream, Meadors spent the previous three seasons as an assistant coach for the Washington Mystics. Meadors also served as the first General Manager and Head Coach of the now-defunct Charlotte Sting where she led the franchise to the playoffs in each of its first two seasons.
Previous Rookie of the Year Winners
2008 Â  Â  Â  Â Candace Parker, Los Angeles Sparks
2007 Â  Â  Â  Â Armintie Price , Chicago Sky
2006 Â  Â  Â  Â Seimone Augustus, Minnesota Lynx
2005 Â  Â  Â  Â Temeka Johnson, Washington Mystics
2004 Â  Â  Â  Â Diana Taurasi, Phoenix Mercury
2003 Â  Â  Â  Â Cheryl Ford, Detroit Shock
2002 Â  Â  Â  Â Tamika Catchings, Indiana Fever
2001 Â  Â  Â  Â Jackie Stiles, Portland Fire
2000 Â  Â  Â  Â Betty Lennox , innesota Lynx
1999 Â  Â  Â Â  Chamique Holdsclaw , Washington Mystics
1998 Â  Â  Â  Â Tracy Reid , Charlotte Sting