Champion of diversity and academic reform: NCAA President Myles Brand dies at 67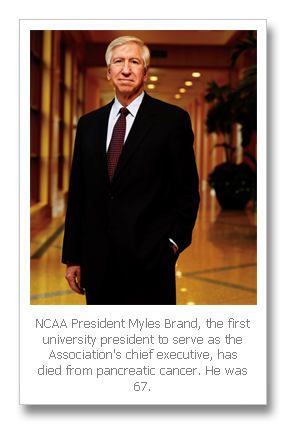 Myles Brand, the first university president to head the NCAA and a champion of academic reform died Wednesday after battling pancreatic cancer this past year. Brand, a former Indiana University President, championed academic reform, fiscal responsibility and student-athlete well-being during his tenure. He served as NCAA president since January 2003. He was 67.
He was diagnosed with pancreatic cancer in December 2008 and announced his condition to the NCAA Executive Committee, the national office staff and the leadership at NCAA member schools in January, saying the long-term prognosis for his condition was "not good."
Brand built his presidency on academic reform and advocacy of intercollegiate athletics.
"Myles Brand's appointment as president of the NCAA represented a new chapter for the organization," said Graham Spanier, president of Pennsylvania State University, "coming at a time when there was strong sentiment for appointing a university president to this leadership role. Many of the NCAA's challenges are not purely athletic, but rather focus on the concept of the student-athlete. It is hard to imagine anyone who could have made this transition better than Myles.
He was known for advocating for fairness and equal opportunity throughout intercollegiate athletics. He publicly criticized the lack of diversity among college coaches and problems with access to high-ranking athletic positions.
"One of the most egregious instances of this lack of access is the low number of African-American head football coaches and offensive and defensive coordinators in Division I-A," said Brand during his 2003 State of the Association speech. "The current situation is simply unjustifiable."
He created the office for diversity and inclusion at the national office in August 2005. The unit was assigned responsibility for leading efforts to develop and implement strategies, policies and programs that promote diversity and inclusion throughout the NCAA, such as the Diversity Education Program, the Football Coaches Academy, the Expert Coaches Forum, and the Leadership Institute for Ethnic Minority Males and Females.
'He championed not only diversifying the head-coaching ranks in football," said Charlotte Westerhaus, Vice President for Diversity and Inclusion of him, "but also leadership positions in athletics administration for both men and women."
He is survived by his wife, Peggy, and one son, Joshua.