LSU Announces Inaugural Sue Gunter Classic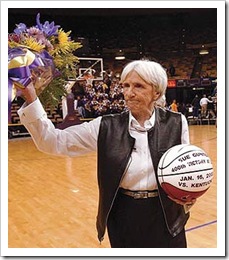 Louisiana State University announced that it will honor the late Sue Gunter, the winningest head coach in Lady Tiger history, with a two-day women's basketball tournament in her name. The inaugural Sue Gunter Classic will take place Dec. 15-16 at the Pete Maravich Assembly Center.
UL-Lafayette takes on North Carolina A&T in the first game at 4:30 p.m. LSU faces Houston Baptist in the nightcap at 7 p.m. on Tuesday, Dec. 15. The consolation game tips at 4:30 p.m. on Wednesday, Dec. 16. The two winners will meet in the championship contest at 7 p.m. on Dec. 16.
"We are really pleased to announce the start of the Sue Gunter Classic," LSU head coach Van Chancellor said. "It is important to always remember the contributors of our game, and I don't think there is any greater contributor than Coach Gunter. To be hosting a tournament is great, but to be hosting a tournament in name of a person I have always admired is special. This will mean a lot to our staff, our players and our fans."
From her USA Basketball days to her first head coaching job at Stephen F. Austin, Gunter was a pioneer for the sport of women's basketball and her legacy carried beyond the court. She made her mark in 22 seasons at LSU, bringing the program to national prominence where it has since advanced to five NCAA Final Fours.
Gunter compiled a 442-221 mark with the Lady Tigers. Under her direction, LSU played in 14 NCAA Tournaments, four Elite Eights, eight Sweet 16s and won two Southeastern Conference Tournament titles. The crowning achievement came in her final season as she led the Lady Tigers to 27 wins and the program's first NCAA Final Four appearance.
Gunter completed her career as the third winningest women's coach in history with an overall record of 708-308. Today, those wins stand as the ninth-most in NCAA Division I history.
In 2005, she was inducted into the Naismith Basketball Hall of Fame. Those who knew Gunter best will say she was an even better person away from the game.
"There isn't a day that goes by that I don't think of Coach Gunter and what she has meant to me personally as well as to Lady Tiger Basketball," said LSU associate head coach Bob Starkey, who coached beside Gunter for six seasons. "The Sue Gunter Classic is a means for her to continue to help our program which would be important to her."
The addition of the Gunter Classic now finalizes the LSU Lady Tiger schedule for 2009-10. LSU heads into the season returning four starters and nine letterwinners from a squad that advanced to the second round of the NCAA Tournament a year ago.