Seattle Storm End Season with Victory Over San Antonio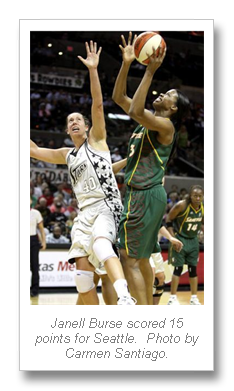 SAN ANTONIO – Saturday night's matchup between two teams who have earned playoff berths turned out to be test run for their bench players.
The Seattle Storm (20-14), missing all three of their All-Stars, earned their twentieth win of the season over the San Antonio Silver Stars (15-19) Saturday night with a 64-55 victory.
Silver Stars head coach Dan Hughes chose to rest his marquee players Sophia Young and Becky Hammon for the team's final game of the season. However, starting guard Vickie Johnson — who retires this year — did play several minutes because Hughes wanted to "give her an opportunity to start her last game in the regular season" for the crowd of 10,153 at the AT&T Center.
Seattle's injury-depleted squad competed without Lauren Jackson (back stress fracture), Swin Cash (attending a family funeral) and Sue Bird (sore neck). Reserve Katie Gearlds also missed the game because of a left knee injury.
Seattle recently signed A'Quonesia Franklin and La'Tangela Atkinson to end-of-regular season contracts to help the squad cope with the absence of key players.
"We talked today, that we are going to have to sit some people," said Seattle head coach Brian Agler. "The one thing we don't have to worry about this team is that they are going to come out and compete. We have proven this over the last few games and it doesn't matter who's in or who's out. We are going to have a team that will compete hard."
Reserves who normally do not get much playing time started for both teams. The Silver Stars and the Storm both struggled to find a rhythm in the first half as poor defense, numerous missed shots, several missed free throws and turnovers hampered play.
"Some of these players had not played a great deal," said Hughes "…so it was great so they could play through some things. I used it that way."
San Antonio fared better in the first quarter with a 35.3 field goal percentage compared to Seattle's 17.6 percent. Seattle was also 2-of-6 from the free-throw line. San Antonio did not go the line in the first quarter.
The Silver Stars led 15-9 going into the second quarter. Seattle shot a lot and cut down the turnovers while San Antonio had seven and shot 4-of-13. Australians carried both teams. Seattle center Suzy Batkovic-Brown scored six straight points early in the second quarter to tie the game. She finished the half with 11 points. San Antonio guard Belinda Snell was the other leading scorer in the first half, also with 11.
The Silver Stars held on to a one-point lead going into the break, 27-26.
Seattle took back the lead early in the third quarter and never trailed for the rest of the game. While San Antonio had a higher shooting percentage, Seattle went to the free-throw line more often, shooting 8-of-10 while San Antonio was just 2-of-4.
The Silver Stars continued to fall behind in the fourth quarter as the Storm widened its lead to 11.
Seattle's Shannon Johnson led all scores with 16 points and teammate Janell Burse added 15.  Shanna Crossley came off the bench and led the Silver Stars with 12 points.
It was clear that the game was more like an exhibition match than a full-out regular-season competition as the San Antonio locker room had a relaxed atmosphere postgame.
"I think we are trying to get some people some rest to heal up some nagging injuries that are definitely getting better," said Silver Stars reserve forward Erin Perperoglou about the player rotation. "On the flip side, it gives some people that have been sitting a little bit more time to get out there and get the opportunity to find a rhythm and get on the same page."
Perperoglou emphasized that despite missing key players, it was still a competition.
"We were trying to win, it wasn't just a throw away game. But there were definitely some good things that happened for us."
Both teams are looking forward to the playoffs next week and getting their star players back on the floor.
"Our priority once we got into the playoffs was the playoffs, "said Hughes about giving players rest and having reserves play most of the game.  "Hopefully that will pay dividends for us in the playoffs."
The Storm, who are second place in the Western Conference, ended a three-game losing streak against the Silver Stars and will begin their postseason Wednesday on the road against the third-place Los Angeles Sparks.
The fourth place Silver Stars face the conference-leading Phoenix Mercury Thursday September 13 at home for the first of a three-game series. Game Two and Three (if necessary) will be played in Phoenix.
This story originally published on SportsPageMagazine.com.