Silver Stars Boost Postseason Chances With Win Over Sparks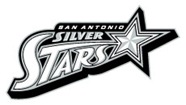 SAN ANTONIO – The San Antonio Silver Stars denied the Los Angeles Sparks the opportunity to lock down a playoff berth Saturday night with an 89-72 victory over their long-time rivals at the AT&T Center before a crowd of 8,631.
San Antonio kept their own postseason hopes alive largely due to a prolific performance by veteran guard Vickie Johnson who tied her career high in scoring with 27 points.
"It was a great win for us tonight," said Johnson. "That's three in a row."
San Antonio beat Minnesota Tuesday night and defeated Detroit Saturday night, both games at home.
From the game's onset, San Antonio's defense contributed to the high number of Los Angeles turnovers and lack of second-chance shots. The Sparks had ten turnovers and did not have any second-chance points in the first half.
"Turnovers killed us tonight," said Sparks head coach Michael Cooper. "You can't win against a good team with 15 turnovers, and our defense wasn't very good either."
While San Antonio's leading scorer Becky Hammon had zero points in the first half, other players — especially Johnson and Edwige Lawson-Wade — made up the difference. Lawson-Wade scored the first points of the game with a 3-pointer and was 3-for-5 from behind the arc.
I'm feeling good at the three-point line," Lawson-Wade said. She had her first career double-double with 11 points and 11 assists. She also had a career-highs in rebounds (five) and steals (five).
All Silver Stars starters scored in double-figures for the first time this season.
"We had an unbelievable team effort tonight all the way around," said Hammon. "We shared the ball well with thirty assists. It was just a phenomenal job by our team."
San Antonio's previous record for assists in a game was 26 set on July 3, 2009 against the Chicago Sky.
Even with numerous turnovers, Los Angeles shot 68 percent in the first half and nearly went into the break with a one-point lead. But Vickie Johnson hit a buzzer beater with 0.2 seconds left on the game clock and the Silver Stars went up 36-35 at the break.
In the third quarter, the Sparks fell behind by double digits and never got closer than 14 points from that point on.
"All I know is we did a terrible job in the third quarter, and that's where we lost the game," said center Lisa Leslie, who finished with 21 points.
Candace Parker agreed with her teammate.  "We came out in the second half and simply didn't execute, got down about 13 points and just couldn't recover from there."
For Parker, the responsibility for the loss rested on the shoulders of the entire team.  "It was all of us," she said. "Our energy was bad, our help-side defense was bad and our on-ball defense was worse. We have no one else to blame but ourselves."
Parker finished with 14 points, 10 rebounds and eight assists. Tina Thompson contributed 12 points.
The San Antonio crowd was extremely loud and boisterous throughout the fourth quarter as the specter of a victory jelled into reality.
"The crowd was phenomenal," said Silver Stars head coach Dan Hughes. "As good as I can certainly remember in this season, the best."
The Silver Stars have two more games on the road before returning for a final home game, but Johnson did not express any concern about having away games.
"Actually the road is better for us because we don't have to worry about tickets and all that stuff," said Johnson. "We can just focus on the game plan and carrying it out and just being aggressive … we're just trying to focus one game at a time and just continue to play defense."
The Silver Stars and the Sparks meet again Tuesday, Sept. 8 at 10:30 p.m. ET at the Staples Center in Los Angeles.  The Silver Stars then travel to northern California to play the Sacramento Monarchs for a game on Thursday, Sept. 10 at 10pm at ARCO Arena. The Monarchs are now out of playoff contention.
The Sparks have two more games after they host the Silver Stars Tuesday. The following Friday they host the Minnesota Lynx and then travel to Arizona to face the conference-leading Phoenix Mercury.
This story originally published on SportsPageMagazine.com.