Watch C. Vivian Stringer get inducted into Naismith Basketball Hall of Fame Friday night on ESPN and NBA TV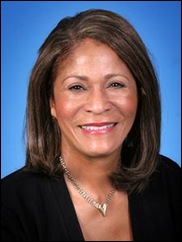 Women's basketball fans will have the opportunity to watch legendary coach C. Vivian Stringer get inducted into the Naismith Basketball Hall of Fame Friday night from 6:30 to 9 p.m. on ESPN and NBA TV. Other members of the Enshrinement Class of 2009 include Michael Jordan, David Robinson, Jerry Sloan and John Stockton.
Stringer has won more than 800 games in her career and currently ranks third on the women's all-time career wins list. She is the first coach to lead three different schools to the NCAA Final Four including Cheyney State, the University of Iowa and Rutgers University where she currently coaches. She is also enshrined at the Women's Basketball Hall of Fame.
NBA.com will launch a special page on Friday, Sept. 4, featuring timelines detailing the careers of the inductees, commentary and thoughts from TNT NBA announcers Ernie Johnson, Marv Albert, Doug Collins, Kenny Smith, Reggie Miller and Charles Barkley and retrospectives from NBA.com writers. The network will  dedicate programming for some inductees during the week and will premiere exclusive 30-minute specials produced by NBA Entertainment. Monday, Sept. 7 will highlight the Utah Jazz player/coach duo of John Stockton and Jerry Sloan; Tuesday, Sept. 8 will feature Spurs great David Robinson; and Wednesday, Sept. 9 and Thursday, Sept. 10, will be dedicated to the legendary Michael Jordan. Stringer is not included in the 30-minute special coverage.
The week will culminate on Friday, Sept. 11 starting with NBA TV's exclusive, live broadcast of the Red Carpet Show prior to the Hall of Fame Induction Ceremony at 5:30 p.m. ET. Hosted by Rick Kamla and featuring reporters David Aldridge and Craig Sager, the program will showcase the arrivals of the inductees and their special guests as well as provide interviews with attendees and Hall of Famers before the ceremony begins.

(L-R) Michael Jordan, David Robinson, John Stockton and C. Vivian Stringer are announced as members of the 2009 Hall-of-Fame class at halftime of the Michigan State Spartans and the North Carolina Tar Heels during the 2009 NCAA Division I Men's Basketball National Championship game at Ford Field on April 6, 2009 in Detroit, Michigan.(Photo by Streeter Lecka/Getty Images) Copyright 2009 Getty Images. All rights reserved.
To be elected, finalists need 18 of 24 votes from the Honors Committee for election into the Naismith Memorial Basketball Hall of Fame. Additional Enshrinement Weekend information can also be found at www.hoophall.com.
The 2009 induction ceremony will mark the 50th anniversary for the Naismith Memorial Basketball HOF.
More on Stringer's career from around the web: