It's a wrap: Detroit Shock to cease operations
After weeks of rumors, the Detroit Shock finally confirmed Monday that the team would be sold to an investment group in Tulsa, Okla. Palace Sports & Entertainment posted a letter on the Shock website in the wee hours of Tuesday morning thanking fans and linking to WNBA Tulsa.
Tulsa Pro Hoops LLC will hold a press conference Tuesday at 11:45 a.m. CT at the Mayo Hotel. WNBA president Donna Orender is expected to attend.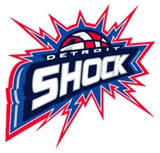 Dear Shock Fans,

It is with much regret that Palace Sports & Entertainment is announcing the transfer of ownership of the Detroit Shock to the newest WNBA franchise in Tulsa, Oklahoma.

I would like to thank you for your support and dedication for our team. Over the past 12 years – from our days as a new franchise to the difficult initial years to seven straight playoff appearances to our three championships – the Shock and their fans have experienced the kind of relationship that few teams are able to enjoy.

Unfortunately, as with the majority of businesses in our area, the current state of the economy has dealt a major blow to our long-term integrity. We, like many of you, have had to make some very difficult decisions – ones we hoped we never had to make – and sadly, this move to Tulsa is one of those decisions.

On behalf of our coaches, players and staff I would personally like to thank you for all that you've done to help make the Shock champions. We will never forget the support and love you showed us over the past 12 seasons. They were something very special. I hope you'll join me in rooting for our team as they embark on a new journey in Tulsa.

Sincerely,

Tom Wilson
President
Palace Sports & Entertainment