Mercury's Temeka Johnson honored with weekend celebration in Louisiana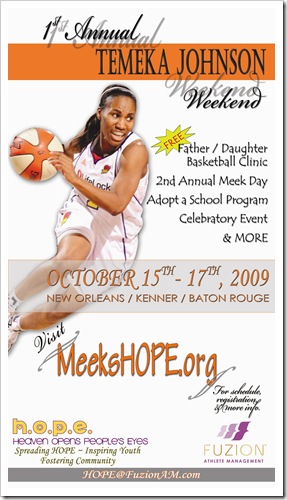 Even before she won a championship with the Phoenix Mercury, Temeka Johnson's friends and family back home in her home state of Louisiana began preparing a celebration for the former Louisiana State University star.
Plans started coming together in early August to honor the point guard who is not only known as the tough-as-nails floor general for the Mercury but also for giving back to the community via her foundation H.O.P.E. (Heaven Opens People's Eyes).
"This weekend means the world to me," Johnson said about the festivities.  It's an honor to even be considered for my own weekend, and I'm happy that my management team put this together. It was really a surprise."
The activities began Thursday when she visited her high school, an elementary school where her grandmother was an educator for 33 years and a nursing home. H.O.P.E. adopted Washington Montessori in Kenner, La. The foundation will organize volunteer work, provide fundraisers and offer educational programs.
The school also named a classroom after her grandmother, the late Jewell Johnson and the Mercury guard presented a jersey to hang in the classroom.
Students at Bonnabel High School in Kenner, La. gave Johnson a standing ovation. She was the district's Most Valuable Player for three straight seasons.
H.O.P.E. adopted the Magnolia Woods Elementary School in East Baton Rouge last year and Johnson, a survivor of Hurricane Katrina, visited the campus Friday.
"Winning the championship has allowed me and my foundation (HOPE Foundation) to reach more people," she said of the opportunity for her to make a positive impact in the community.  I've always given back since my days at LSU, but now, with the championship, it means that I can reach even more people. The looks on the faces of the children at the schools I visited, and at the nursing home meant so much to me. I's hard to put it into words. I'm just happy that I'm able to do this, but I look forward to doing even more!"
Johnson (@Quickdeuce) tweeted about her activities and elation at being honored throughout the weekend.
LSU assistant coach Bob Starkey (@lsucoachstarkey) posted updates on Twitter as well, obviously proud of the former Lady Tiger.
http://twitpic.com/lrmnn – Meek @Quickdeuce w/ the kids singing the "small/tall" song.. I gotta joke for Meek on this one! LOL, 2:19 PM Oct 16th
The university honored Johnson Friday night in a ceremony that included a tribute video, a charity auction and comments from former players and LSU head coach Van Chancellor.
"The transition to Phoenix is what brought me here tonight," Johnson said to the LSU crowd."I want to thank everyone who has embraced me from LSU from Coach (Bob) Starkey to Coach Chancellor to Coach (Travis) Mays and Coach (Kenya-Larkin) Landers and of course the fans. Being a part of Lady Tiger basketball is something I will always be proud of and I will feel that way even when I am 40. This championship is for everyone here at LSU."
The late Sue Gunter, the former LSU head coach and basketball legend recruited Johnson. "Temeka is a true point guard," said Gunter in 2000.
While at LSU, she broke the school's career assist record, was a two-time member of the All-SEC First Team and the All-Tournament team. She was the SEC Tournament MVP in 2003.
Johnson was the sixth overall pick in the 2005 WNBA draft and won the Rookie of Year during her first season as a pro with the Washington Mystics. The Mystics traded her to the Los Angeles Sparks in 2006. She joined the Phoenix Mercury after a trade this past spring.
Around the Web: