WNBL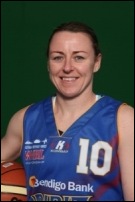 Kristi Harrower
Australia's WNBL kicked off their 30th season this week in Bulleen, north of Melbourne. Kristi Harrower of the Los Angeles Sparks signed to play with the Bendigo Bank Spirit. So far, she has short-term contract. The team had to raise money to fund her salary. Shortly after arriving from Los Angeles, she led Bendigo in a win over the Dandenong Jayco Rangers with a 23 point effort.
Former WNBA player Margo Twigg (known more by her maiden Dydek) and sister Marta are signed to play on the same team, the Logan Thunder. Margo is the tallest active women's professional basketball player at 7'2". She holds the record for most blocks in a WNBA career, with 877 blocks in 323 games. Her sister Marta is 6'6" and played for the University of Texas-El Paso.
WNBA Awards
With less than a week before the end of the WNBA postseason, all of the league's awards have been announced. Let's recap shall we:
Coach of the Year – Marynell Meadors (Atlanta Dream)
Most Valuable Player – Diana Taurasi (Phoenix Mercury)
Rookie of the Year – Angel McCoughtry (Atlanta Dream)
Defensive Player of the Year – Tamika Catchings (Indiana Fever)
All-Defensive Team Selections – Tamika Catchings, Nicky Anosike (Minnesota Lynx), Lauren Jackson (Seattle Storm), Tanisha Wright (Seattle Storm), Tully Bevilaqua (Indiana Fever)
All-Rookie Team – Angel McCoughtry, DeWanna Bonner (Phoenix Mercury), Shavonte Zellous (Detroit Shock), Renee Montgomery ((Minnesota Lynx) and guard Marissa Coleman (Washington Mystics).
All-WNBA Teams – Diana Taurasi, Cappie Pondexter (Phoenix Mercury), Lauren Jackson, Becky Hammon (San Antonio Silver Stars) and Tamika Catchings. Los Angeles Sparks teammates guard/forward Candace Parker and center Lisa Leslie, highlight the 2009 All-WNBA Second Team. They are joined by Fever guard Katie Douglas, Detroit Shock guard Deanna Nolan and San Antonio Silver Stars forward Sophia Young
Kim Perrot Sportsmanship Award – Kara Lawson (Sacramento Monarchs)
Sixth Woman of the Year presented by Kia Motors – DeWanna Bonner (Phoenix Mercury)
Most Improved Player presented – Crystal Langhorne (Washington Mystics)
WNBA Peak Performers – Diana Taurasi, Candace Parker and Sue Bird (Seattle Storm)
The most hotly debated award among basketball fans was MVP. Some felt that Taurasi's off-court behavior (a DUI in July) should have been a factor in the determining her eligibility for the award. But the accolade is based on an athlete's performance on the court and the voting results prove that the majority of the panel of sportswriters and broadcasters who cast ballots felt the same.
Better, Faster, More Points, Higher Ratings
The opening game of the Finals is arguably one the best WNBA game ever played. In the highest scoring game in WNBA history, the Phoenix Mercury defeated the Indiana Fever 120-116. The teams also combined for the most points in a game in league history, playoffs or regular season. The previous high was 221 by Phoenix (111) and Houston (110) in triple overtime on August 10, 2006.
Playoff ratings also spiked. Game 1 was the most viewed WNBA game on cable since Game 4 of the 2007 WNBA Finals.
In Game 2 Indiana evened the series 1-1 beating Phoenix 93-84. It was the Fever's first WNBA Finals win in franchise history. Tamika Catchings was one rebound short of a triple-double with 19 points, 11 assists and nine rebounds. There has never been a triple-double in WNBA Finals history. The only triple-double in WNBA Playoffs history was by Sheryl Swoopes on September 3, 2005 against Seattle. Swoopes had 14 points, 10 rebounds and 10 assists.
Game 3 is Sunday, October 4 in Indiana, 4:00 p.m., ESPN2. According to the league, 16,000 seats have already been sold.
Ohhhklahoma where the winds come sweepin' down the plain
Nolan Richardson was named head coach of a prospective WNBA team in Tulsa, Oklahoma.
"I'm happy for Nolan. He's a really nice guy," said former WNBA player/coach Nancy Lieberman to Tulsa World. "He has a lot of work ahead of him. I think it's going to be very important that he hire people on his staff that have knowledge of the league.
"There are a lot of people out there, like Bo Overton, who can help him understand who the players are in this league. I'm for anybody who can help make women's basketball better and stronger. But they also have to be receptive to learning. If you aren't open-minded to learning, then success won't be as easy as you think."
The primary investors behind the push for a Tulsa team say they will know in early October if a team has been secured. This week they added two more backers in their bid for a team. Scott and Katie Schofield of Washington, D.C. pledged their support. Katie is a Tulsa native and grew up playing the game.
"I never imagined when I was growing up playing 6-on-6 basketball that something even remotely close to a WNBA team would ever be reality in Oklahoma," she told KTUL, "and that I would be involved in it."
Donna O. and the LPGA
WNBA president Donna Orender avoided directly answering a query from ESPN reporter Rebecca Lobo during Game 2 about her future with the league and rumors that she will take the top job at the LPGA. In response to a direct question about the possibility of her leaving the league, Orender proceeded to wax jubilantly about the Finals' high scoring and attendance, completely avoiding the subject.
According to Sports Business Daily, an announcement about the LPGA's next president will be made by late October. Orender is considered to be a frontrunner for the job. Previous to her WNBA post she spent 17 years working for the PGA Tour.
Orender also recently celebrated the induction of her Queens College basketball teammate Gail Marquis into the New York City Basketball Hall of Fame. She wrote on Twitter:
At nyc bb hof awards with my queens college teammates – our teammate gail marquis is getting inducted – its a thrill!
College Scene
Several media outlets came out with preseason rankings in the past week and a half. UConn tops every list.
Sporting News Preseason Top 10
1. Connecticut
2. Stanford
3. Ohio State
4. North Carolina
5. Duke
6. Notre Dame
7. Oklahoma
8. Virginia
9. LSU
10. Baylor

Athlon Preseason Top 10
1. Connecticut
2. Stanford
3. Ohio State
4. Duke
5. Michigan State
6. Texas
7. Xavier
8. Baylor
9. Georgia Tech
10. North Carolina
Lindy's Preseason Top 10
1. Connecticut
2. Stanford
3. Ohio State
4. Tennessee
5. Notre Dame
6. Duke
7. Michigan State
8. Rutgers
9. Baylor
10. Oklahoma
You have to go out and buy fat and expensive preseason guides to see the rankings in print but every college on a list hyped their rankings with press releases on their web sites.
The Road to the 2010 World Championships in the Czech Republic
FIBA Americas, Sept. 23 – 27
Brazil won the Gold medal at the FIBA Americas Championship for Women after defeating Argentina 71-48. Canada won the bronze, beating Cuba 59-49 in overtime. Argentina and Canada secured their place at the 2010 World Championship. The United States already qualified due to winning the gold medal at the 2008 Olympics.
The U.S. National team training camp is taking place this week in Washington, D.C. at American University. The team will provide fans with a fall showcase and autograph session on Sunday. Since team members Tamika Catchings, Ebony Hoffman, Cappie Pondexter and Diana Taurasi are competing in the WNBA Finals, they did not attend the camp.
Candace Parker arrived late due to participating in the WNBA playoffs. She will join her husband Shelden Williams of the Boston Celtics in Massachusetts this fall before heading to Russia in the winter to play for UMMC Ekaterinburg.
The US team leaves for Russia next week for a three-game tour. Academic obligations will prevent UConn junior Maya Moore from making the trip.
FIBA Asia, Sept. 17 – 24 and FIBA Oceania Aug. 31 – Sept. 2
The FIBA Asia Championship was held Sept. 17 – 24 in India. The top three finishers were China, Korea and Japan. They all qualified for the world championships. Australia also qualified by virtual of winning the FIBA Oceania tournament with a win over New Zealand in early September.
Tierra Rogers
Tierra Rogers in the 2009 McDonald's All American Women's High School Basketball Game, on April 1, 2009 in Coral Gables, Florida. (Photo by Doug Benc/Getty Images)
University of California-Berkeley incoming freshman Tierra Rogers has seen more than her fare share of adversity. She underwent heart surgery this week after doctors discovered that she had a severe heart condition. She has been declared medically ineligible to play.
"This is obviously devastating news for Tierra and her family," said Cal women's basketball coach Joanne Boyle. "We are here to stand by her 100 percent with whatever she needs. Obviously, basketball was a very precious part of her life, but she has a higher purpose here than just being a basketball player, and her health and well-being are our primary concern. Right now, she can really use all the support and prayers she can get to help her through these trying times."
A native of San Francisco, Roger endured the tragic death of her father in 2008 who was shot during halftime during one of her high school games. He stepped outside to smoke a cigarette and was gunned down by assailants who have never been caught. Her school went on to finish the season 33-0, win the state title. They were the number one ranked team in the nation.
Rogers was named a McDonald's All-American and Parade Magazine second-team All-American as a senior at Sacred Heart Prep in 2009. Rogers helped Sacred Heart to state championships in 2006, '07 and '08, including perfect 32-0 seasons in 2007 and '08.
Cal will seek a medical waiver for her so she can retain her athletic scholarship and continue her education.