WNBA Tulsa a hot topic at Big 12 Conference women's basketball media day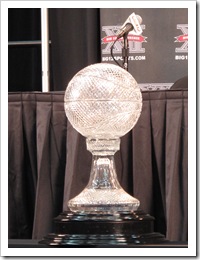 Kansas City, Mo. — The new WNBA team in Tulsa is a hot topic at the annual Big 12 Conference women's basketball media day.
Baylor head coach Kim Mulkey learned of Tulsa Pro Hoops LL purchase of the Detroit Shock on the plane to Kansas City, Mo. for the media confab.
"I hope that they draw well and that the league can sustain," she said. "I wish them well."
Oklahoma head coach Sherri Coale is very excited about the team and its impact.
"Anytime people are thinking about, talking about, going to, watching basketball, it's a positive thing for our program," said Coale.
She mentioned the concerns some had about Oklahoma women's basketball games competing with the NBA Oklahoma City Thunder.
"When the Thunder came to Oklahoma City everybody said 'what effect is this going to have?' And obviously there were some legitimate questions and concerns there because sometimes the Thunder is playing in downtown Oklahoma City and we're playing at the Lloyd Noble Center. Those potential concerns don't exist with a WNBA team."
Coale was bombarded with questions about the impact of not having former players Courtney and Ashley Paris on the team. Courtney, a first-round draft pick in this year's WNBA draft, told a reporter during the season that before she started playing for her team, the Sacramento Monarchs, she really did not know much about the professional league.
"I can't honestly say I was familiar with a lot of the players and what they do," she told The Oklahoman newspaper. "In the summers, I was doing stuff, so it's not like I paid attention as much to the WNBA."
While Coale corroborated her former player's stance, citing the time constraints of college athletes, she did say having a team Tulsa might help her players be better prepared for a pro career.
"I guess it could enhance that," she said. "I think if players want to learn more about the WNBA all they have to do is turn on the television. It's just having the time. Being in that environment, as a college player, is so demanding."
During the press conference she was asked about the WNBA again.
"I think it's fantastic for the city of Tulsa. I'm happy for Bill and David. I know the time and the work ethic that they've dispensed over the last really two to three years probably to see this come to fruition."
Texas A&M head coach Gary Blair talked at length about Tulsa's coach Nolan Richardson and the possibility of having a few Big 12 players join the team.
I think it will be great. I worked with Nolan for nine years. He has a passion for the game. He also has a passion for young ladies, as most of you know. His daughter died of leukemia. His wife was one of our biggest fans. They used to come to our ball games in Arkansas, and the kids would love to go up and talk to her. I think it's a perfect fit. I think we'll do very well, particularly if he's getting Detroit's team.

That's not an expansion team. That's a readymade team, ready to compete. And hopefully he'll look into some of these Big 12 players like Danielle Gant, who's over in Turkey right now playing, to say come back home and play in Oklahoma.

And maybe the other Paris. So hopefully he'll look at some of the Big 12 players and say, let's fill my roster with some of those kids in the Big 12 that can maybe put some butts in the seats.

He hasn't forgotten how to coach the game. He is a very, very good teacher and a very good coach. And I really believe, for him to get his legacy that he deserved, he needs to get back into the game and hopefully get into the Hall of Fame someday.
Oklahoma State head coach Kurt Budke also weighed in on the topic. Although he said the new franchise would really have no impact on his team, he did say the WNBA will help keep the excitement about women's basketball at an all-time high.
Photo: The Big 12 Conference Championship trophy sits in front of the stage.